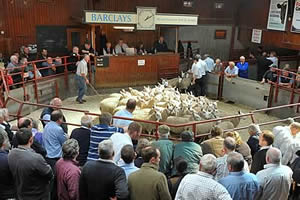 The Cumberland & Dumfriesshire Farmers Mart had forward 2,148 Store Hoggs and 208 In Lambers and Ewes with Lambs at foot at their weekly sale at Longtown on Tuesday 6th March 2012.
A quality show of store hoggs met another fantastic trade with numbers short of requirements. Texels to £92.50 and £88.50 for Texels from Bensons Fell, others £86.50 Whitchester, £85 Little Cloak; Beltex £92.50 Copperthorns; Suffolk £83.50 Little Cloak, £80 Cocklakes House; North Country Cheviot £83.50 Carruthers; Greyface £81 Dalhabboch; Blackface £80, £75 Craigdarroch, £74.50 Kilnfordcroft, £73 Wanwood Hill; Cheviot Mule £79.50 High Dovecote; Hill Cheviot £79 Milnholm, £76.50 Girnwood; Charollais £78.50 Heugh.
Cast ewes to £94 Winshield, hill types £67.50 Heugh.
In lamb ewes very dear with Suffolks to £220 Cleughbrae; Texel £155, £152 Cleughbrae; Hill Cheviot £90 Whitslade; Blackface £86 South Mains. In lamb shearlings to £146 for Cheviot Mules from Little Cloak.
Geld hoggs to £100 for Suffolks from Sydenham; Texel £83 Wanwood Hill; Greyface £81 Dalhabboch.
Ewes with lambs at foot were very dear selling to £58 each for Greyface ewes with triplets.
---