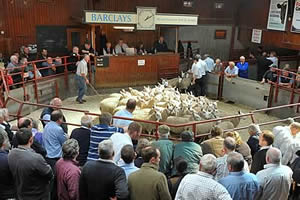 The Cumberland & Dumfriesshire Farmers Mart had forward 1,802 Store Hoggs, In Lambers and Ewes with Lambs at foot at their weekly sale at Longtown on Tuesday 13th March 2012.
Hoggs still very dear to a top of £103.50 for Texels from East Redford Green, £92.50 South Mains; Suffolk £94 South Mains; North Country Cheviot £79.50 Adderston Shields, £78 Lowfield House; Greyface £78.50 High Woodend; Half Bred £76.50 Adderston Shields; Cheviot Mule £75.50 Dinley; Hill Cheviot £74.50 Dinley, £70 East Redford Green, £69.50 Milton of Dryfe; Swaledale £73 Brigg; Gritstone £69 Coltcoates; Blackface £64 Hawthorns, £59 Midlock. Cast ewes to £87 High Woodend, hill types £67.50 Crookbank. Cast rams to £97.50 High Woodend.
In lamb ewes a strong demand with Texel shearlings (scanned twins) at £170 Alderley Terrace; Greyface (scanned twins) £160 Alderley Terrace. In lamb ewes to £114 for scanned Greyface from Cowrigg.
Ewes with lambs at foot met a keen demand to a top of £71.50 for Texel x ewes with twins from New Hummerbecks and Charollais ewes with twins from Cottage Farm.
---