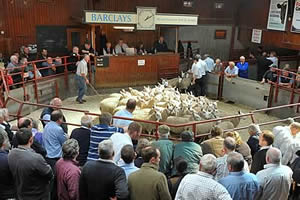 The Cumberland & Dumfriesshire Farmers Mart PLC had forward 2,201 breeding sheep at their weekly sale on Tuesday 22nd May, 2012.
Another large entry, trade dearer for all classes.
Hoggs with singles sold to a top of £100 and £91 for Greyfaces from Messrs Ridsdale, Yew Tree, Thomas Close, Penrith, others £92 Briggle, £90 Langfield; Continental £88 High Wood, £85 Whitstonehill, £84 Reagill Grange, £82 Bayles, £80 High House; Cheviot Mule £87 High Wood; Suffolk cross £75 Whitstone Hill.
Hoggs with twins to £72 for Greyface from Langfield.
In the shearling section, a very good pen of Blackfaces with singles sold at £80 from The Steel Cottage; Greyface £75 Station Road; Suffolk cross £71 West Wharmley; Cheviot Mule £68 Mackside; Texel £66 Bayles.
Shearlings with twins to £71 for Suffolk cross from West Wharmley; Texel £63 Mackside; Blackface £62 Steel Cottage; Cheviot Mule £61 Mackside.
Ewes with lambs sold to a top of £100 for Texel ewes with singles from Upper Cleugh; Suffolk cross £66 High House; Half Bred £63 Bayles; Greyface £59.50 South Mains; Hill Cheviot £53 Clover Hill; Roussin £50 Castlefairn; Blackface £48 Bridgeford, £46.50 High House.
Ewes with twins to £71 for Texels from West Wharmley, £68 Upper Cleugh; Greyface £60 Bayles; Roussin £50 Castlefairn; Hill Cheviot £49 Castlefairn; Blackface £46 Bridgeford; Swaledale £41.50 Glendhu.
Geld hoggs to £98 for Greyface from Fieldside, £95 Station Road, £90 Parcelstown; Texel £80 South Mains.
Cast ewes to £60 Castlefairn.
---