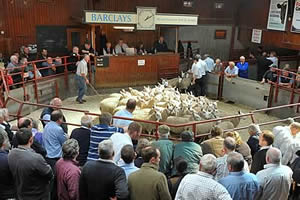 The Cumberland & Dumfriesshire Farmers Mart P.L.C. had forward 369 breeding sheep at their weekly sale on Tuesday 3rd July, 2012.
A good entry for the late sale of the season with trade still excellent.
Hoggs with singles – Greyface £69 Porterstown.
Hoggs with twins – Greyface £68.50 Linton House.
Ewes with singles – Texel £68 Eastfield of Wiston; Greyface £65 Wyseby Hill; Cheviot Mule £57 Wyseby Hill; Hill Cheviot £61 South Mains; Suffolk £59.50 Eastfield of Wiston; Blackface £51 South Mains; Welsh Mountain £42 Eastfield of Wiston.
Ewes with twins - Greyface £65 Wyseby Hill; Texel £64 Murraythwaite.
Store lambs to £52.50 Linton House. Store hoggs to £51 Linton House.

---