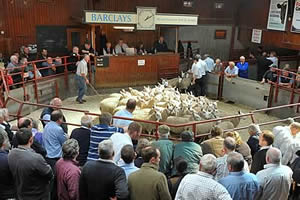 The Cumberland & Dumfriesshire Farmers Mart PLC had forward 716 Breeding Sheep and 3,239 Store Lambs at their Grand Opening Sale at Longtown on Tuesday 31st July, 2012.
Breeders were easily sold. Top of £112 for Texel gimmers from Linton House who also sold Greyfaces at £100. Ewes sold to £95 for Greyfaces from Stackbraes, others to £92 The Mark and £90 Newington; Suffolk cross £88 Hopestead; Texel £88 Newington; Cheviot Mule £87 Newington; Lleyn £70 The Mark; Herdwick £56 Linton House.
Store lambs were an increased entry on the year with many quality pens were on offer to a packed ring of both local and distant buyers, who ensured a good selling trade all day. Overall lambs were down £4.02 on the year to average £57.99 overall.
Top of £71.50 for Suffolk crosses from Hopestead, others £70.50 Satchells; Texel £70 Towsbank, £68.50 Rinnion Hills; Charollais £60 Haswellsykes; Greyface £59.50 Kilnstown, £57.50 Midtodhills, £56 Edges Green; Swaledale £44 Coach House. Feeding ewes to £79 Linton House.

---