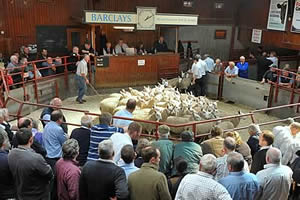 The Cumberland & Dumfriesshire Farmers Mart PLC had forward 188 Breeding Sheep and 2,769 Store Lambs at their Sale at Longtown on Tuesday 14th August, 2012.
Breeding sheep again very good to sell. Top of £116 for Greyface shearlings from Farmers Close who also sold Suffolks at £103 and Texels at £100. Correct ewes to £82 from Linton House.
A similar show of quality lambs attracted more distant clients, as a result all classes very dear and short of requirements.
Top of £74.50 for Texels from Linton House, others £73 Arnmannoch, £70 Rinnion Hills; Charollais £72.50 Satchells; Suffolk £72 Lynnshield, £70 Linton House; Cheviot £65 Craighousesteads; Blackface £54 Halliburton.
The sale included a special sale for Mule wether lambs. Top was £59.50 from Stonehall and High Edges Green, others £57.50 Whiteside, £57 Highside and Bellmount.

---