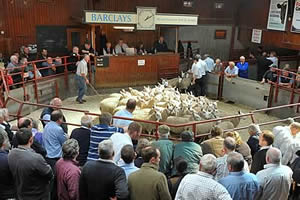 The Cumberland & Dumfriesshire Farmers Mart P.L.C. had forward 1,154 Breeding Sheep and 4,024 Store Lambs at their Sale at Longtown on Tuesday 21st August, 2012.
The Special August Sale of Breeding Sheep attracted a packed ring of buyers, trade was buoyant and on par with all other centres with the average down £12.27 on the year.
Top of £134 (x3) and £130 for Texel shearlings from Mossband House who also sold Suffolk at £120; Greyface £124 (x2), £122, £120 Englishtown. Ewes topped at £138, £128 and £127 for Texels from Mossband House; Greyface £106 Calvo, £101 Nunscleugh; Suffolk £92 Linton House; Cheviot Mule £90 Mossband House; Hill Cheviot £70 Linton House.
Another large, quality entry of lambs attracted buyers from as far as Devon and Wales with a strong contingent of local feeders. Trade was again animated with prices firmer on the week.
Top of £75 for Beltex x Texels from Greenwell Meadows, Castle Carrock, others £70 Cowcorse Cottage; Suffolk £70.50 Barnsallie, £68.50 Satchells, £68 Barnsallie; Greyface £64 Edges Green, £63 Knarr, £62.50 Taylorburn, £62 Satchells; Charollais £62.50 Howard House, £61 Arnmannoch; Blackface £57.50 Bowershield, £53 Craighousesteads; Cheviot £55 Bayles; Swaledale £35 Howburn.
Cast ewes to £66 Linton House.

---