The Cumberland & Dumfriesshire Farmers Mart PLC had forward 6,386 store lambs at their Sale at Longtown on Tuesday 11th September, 2012.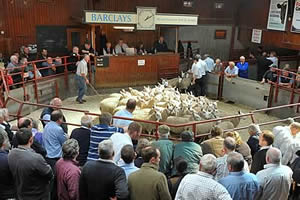 With a good ring of buyers present from as far as Norfolk and Devon, all classes maintained last weeks rates.
Top of £72 for Suffolks from Maxton House, who also sold Texels at £70, other Texels £70 Border Rigg; Bleu d'Maine £66.50 Middle Farm; North Country Cheviot £63.50 Clover Hill; Greyface £63 Amos Hill, £57 Clover Hill, £56 Penpeugh; Charollais £62 Doorpool; Easycare £56.50 Milton of Farr; Herdwick £49 Kernal Rigg; Swaledale £33 Sundaysight.
Cast ewes to £87 for Texels from Wester Alemoor. Correct ewes to £78 Maxton House.
At the first sale of 1,729 Hill Cheviots and 1,247 Blackfaces were forward, a first class show and buyers were from as far away as North Wales, trade was buoyant throughout although prices would be easier on the year.
Top Cheviots were £59.50 and £59 Yetholm Mains, others £55 Stouphill, £54 East Deloraine and Effgill.
Blackfaces sold to £50 Craigieburn and Penpeugh, £49 Tweedshaws and Satchells, £47 Little Tongue.
---