The Cumberland & Dumfriesshire Farmers Mart P.L.C. had forward 9,083 Store Lambs at their Sale at Longtown on Tuesday 25th September, 2012.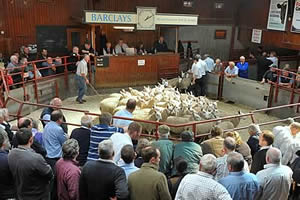 A large and quality show attracted a full ring of local and distant buyers, all classes easily upheld recent high rates.
Top of £67 for Beltex crosses from Glendearg; Texel £66.50 Middle Farm, £66 High Love Lady Shield and Cocklakes House, £65 Rinnion Hills; North Country Cheviot £64 Satchells, 363 Commonside; Bleu d'Maine £60.50 South Slealands; Charollais £60.50 Solway Bank Cottage; Suffolk £60 High Love Lady Shield; Lleyn £57.50 Harper Hill; Greyface £56.50 Cocklakes House and Cardon; Cheviot Mule £56.50 Powisholm; Herdwick £47 Border Rigg; Swaledale £40 Rotherhope.
Feeding ewes to £72 Ridge End.
At the Annual Show & Sale of Hill Cheviots there was a top class entry of 3,162. Buyers were numerous and all classes were a very good trade. Top of £68 for Cheviot ewe lambs from Windyhaugh, others £61 Crossdykes, £59.50 Girnwood and Clerkhill.
Judging was in the capable hands of Chris Brodie whose awards were as follows:-
1st – John Higgs Farms, Arkleton, Ewes.
2nd – Mrs L. Luescher, Glendinning, Westerkirk.
3rd – E. Randall, Drycleughlea, Roberton.
Also this day was the Annual Show of Blackfaces on behalf of the Blackface Sheep Society, where there was an entry of 2,025.
Judging was again by Chris Brodie whose awards were as follows:-
1st – Halliburton Farms, Kelso.
2nd – John Tullie, Bowan Hill, Teviothead.
3rd – Messrs H. & H. Robson, Townshields, Haydon Bridge.
Principal prices - £58 Townshield, £54 Halliburton Farm, £52.50 Bowan Hill, £51 Sundhope.
---