The Cumberland & Dumfriesshire Farmers Mart P.L.C. had forward 9,432 Store Lambs at their Sale at Longtown on Tuesday 2nd October, 2012.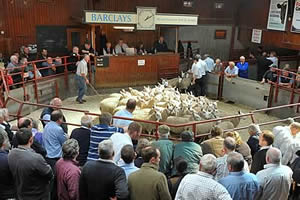 Another large entry attracted several extra buyers from the south, with prime trade easing all round trade was steadier although bidding was buoyant throughout.
Top of £60 for Texels from Messrs Tailford, Rinnion Hills and for North Country Cheviots from Messrs Sordy, Alnham Castle Hill, other Texels to £59 Flatt, £58 Relief; Beltex £59 Middle Farm; Suffolk £59 Nook, £58.50 Blacksmiths Cottage, £58 Whitfield; Charollais £56 Haithwaite, £55.50 Doorpool; Greyface £55 Penchrise, £52.50 Langholm Farm; Blackface £46.50 Coshogle, £45 Townshields; Herdwick £35 Sundhope; Swaledale £31.50 Byers Hall.
Cast ewes to £58 East Foreshield.
Also forward were 2,844 Cheviots, another great entry attracted plenty of buyers, trade was again buoyant. Top of £56 from Parkhill, £55 High Chesters, £54.50 Todrig.
---