The Cumberland & Dumfriesshire Farmers Mart PLC had forward 6,588 Store Hoggs, Cast Rams & Feeding Ewes at their sale Annual Special Sale at Longtown on Tuesday 8th January, 2013.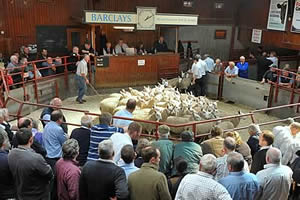 A large show of hoggs attracted several distant buyers, together with local feeders, trade was good as expected.
Top of £70 for Texels from Broomhills and Hewke; Suffolk £65 Broomhills, £57.50 Bateyshield, £57 Boat House; North Country Cheviots £59.50 Drycleughlea, £52.50 Adderston Shields, £50 Alton; Charollais £55.50 Rigghead; Blackface £53.50 Allensgreen, £44 Halterburnhead; Lleyn £53.50 Westhills; Half Bred £52.50 Adderston Shields; Greyface £48.50 Farnbury and Beech House, £47.50 Butterdales, £47 Gall; Zwartbles £48 Linton House; Hill Cheviot £47 Drycleughlea, £46.50 Glendearg, £45.50 Archbank; Roussin £44 Kirkwood Mains; Swaledale £31 Gall.
Several pens of breeding ewes sold very well with correct Texels to £115 and £108 Oaklands with correct below Greyfaces to £69 Glenkiln Farms.
The entry of 1,103 Cast Rams and Ewes were a large entry, several buyers were present as a result all classes easily maintained late high rates.
Top in the ram section was £120 for Leicesters from Allensgreen; Texel £109 Wolfhills; North Country Cheviot £93 Raehills; Suffolk £88 Linton House; Blackface £78.50 Penpeugh; Hill Cheviot £68 Terrona, £65.50 Hopsrigg, £65 Granton; Swaledale £67 Wolfhills; Meat Lincs £63 Cacrabank Cottage.
Feeding ewes to £83 for Texels from Backburn; Greyface £56.50 Newbiggin, £55.50 Gillalees; Lleyns £50.50 Gatehousecote; Cheviot £47 Raehills; Blackface £40 Broomhills; Swaledale £27 Stonehall.
---