The Cumberland & Dumfriesshire Farmers Mart P.L.C. had forward 1,776 Store Hoggs and Feeding Ewes at their weekly sale at Longtown on Tuesday 15th January, 2013.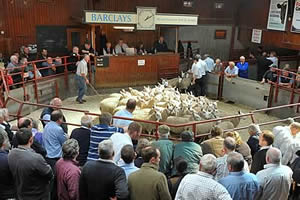 Trade very similar from an active ring of buyers.
Top of £56.50 for Texels from Hownam Grange, £54 Woodfoot; Charollais £55 Riggheads (Broatch); Suffolk £54.50 Derwent House; Half Bred £54.50 Adderston Shiels; North Country Cheviot £52 Adderston Shiels; Hill Cheviot £45 Hownam Grange, £43 Yetholm Mains and North Synton; Greyface £44.50 Shankfield Head; Blackface £40.50 Gate House; Swaledale £36 The Bog (Lord).
Cast rams to £74 for Cheviots from Sorbietrees. Cast ewes to £63 for Leicester from Greenlaw.
---