The Cumberland & Dumfriesshire Farmers Mart PLC had forward 1,002 Store Hoggs, Feeding Ewes and In-lambers at their weekly sale at Longtown on Tuesday 22nd January, 2013.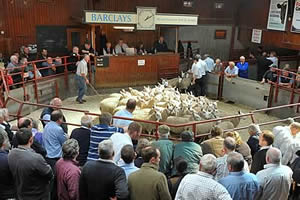 A smaller show due to the weather saw all classes a sharper trade on the week.
Top of £64.50 for Suffolks from Linton House, £59 Braehead; North Country Cheviot £63.50 Linton House; Greyface £60 Linton House; Beltex £56 Keld Farm; Texel £53 Mossband Hall, £52 Newbiggen; Charollais £49 Butterdales; Blackface £41, £39 Wanwood Hill; Kendal Rough £40 The Bungalow (Hodgson); Swaledale £33.50 Butterdales.
Cast ewes to £47 Linton House, cast rams £70 Linton House.
In lamb correct below Greyface ewes to £72 Cowcorse Cottage.
---