The Cumberland & Dumfriesshire Farmers Mart P.L.C. had forward 1,529 Store Hoggs and Feeding Ewes at their weekly sale at Longtown on Tuesday 5th February, 2013.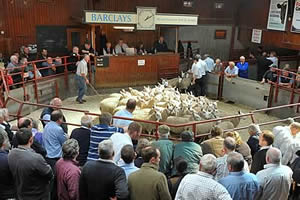 A poorer quality show of hoggs still sold very well.
Top of £57 for Texel hoggs from Cowcorse Cottage, others £54 Townfoot, Eals; Beltex £51 Milton Mains; Suffolk £48 Linton House; Hill Cheviot £45 Girnwood; Greyface £37 Backmuir, £35 Ryehills; Lleyn £35 Chipknowe; Blackface £34 Little Tongue; Swaledale £23 Greenleycleugh.
Cast ewes to £70 Barnbackle.
Cast rams £44 Little Tongue.
Also forward were 626 In-lamb ewes which attracted a good interest, with buyers from as far away as Wales, trade satisfactory.
Top of £83 and £81 (x2) for Lleyns from Bogie Mains who also sold Texels at £76 and Cheviots at £60.
---