The Cumberland & Dumfriesshire Farmers Mart PLC had forward 2,681 Store Hoggs and Feeding Ewes at their weekly sale at Longtown on Tuesday 12th February, 2013.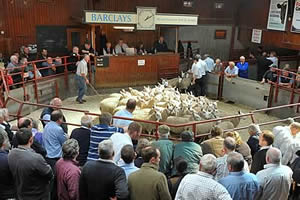 A larger and better quality show of store hoggs attracted several extra buyers, trade was animated from the start to finish.
Top price of £68 for Beltex from Albierigg, others £63 Byers Farm; Texel £66.50 Broomhills, £65.50 Byers Farm, £60 Haregills; Suffolk £65.50 Albierigg, £58 Branxholm Braes; Greyface £62.50 Albierigg; Charollais £60 Dumblar Rigg; Cheviot Mule £59 Springwells; North Country Cheviot £57 Broomhillbank, £56.50 Adderston Shields; Hill Cheviot £50 Nether Phawhope and Raehills; Lleyns £48.50 Chipknowe; Blackface £48.50 Albierigg, £47.50 Wanwood Hill, £44.50 Blakehopeburnhaugh; Swaledale £38.50 Broadmea, £35 Brigg.
Cast ewes to £58 Channelwell. Cast rams £51.50 Nether Phawhope.
Another good show of 682 In-lamb sheep attracted a packed ring of customers, trade was dear for young ewes with older ewes at late rates. More could have been sold to vendors advantage.
Top of £250, others £226 and £200 for Texel gimmers from Oaklands. Ewes sold to £95 for Texels from Bogie Farm; Lleyn £94 Bogie Farm; Suffolk cross £90 Branxholm Braes; Greyface £83 Bonshawside.
---