The Cumberland & Dumfriesshire Farmers Mart PLC had forward 2,783 Store Hoggs, Feeding Ewes and In-lambers at their weekly sale at Longtown on Tuesday 19th February, 2013.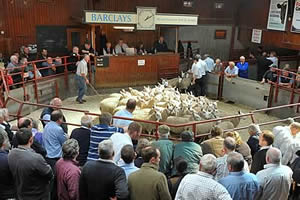 Store hoggs met an exceptional trade at the best prices of the season, many more could easily have been sold to vendors advantage.
Top price of £78.50 and £70 for Texels from Linton House, £69.50 Cross House, £68.50 Ormiston; Beltex £70 Linton House; Suffolk £64.50 Hazelbank, £64 Hillview; Charollais £63.50 Hazelbank; North Country Cheviot £61.50 North Synton, £59.50 Effgill; Greyface £60.50 Cross House, £59 The Hagg, £57.50 Harsondale; Hill Cheviot £59.50 Granton; Lleyn £57 The Height; Blackface £51.50 Linton House, £48 Haithwaite, £47.50 Gatehouse; Swaledale £19 Haithwaite.
Feeding ewes to £75 Linton House, cast rams £61 Kirvennie.
In-lamb ewes were a smaller entry and easily sold with Texels £77 and Charollais £70 Dumblar Rigg, with correct below Greyfaces at £68 Mid Dargarvel.
---