The Cumberland & Dumfriesshire Farmers Mart PLC had forward 3,276 Store Hoggs, Feeding Ewes also 707 In-lamb ewes at their weekly sale at Longtown on Tuesday 26th February, 2013.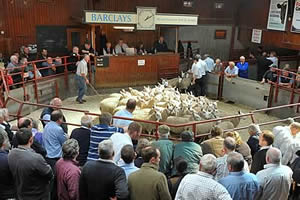 One of the best shows of hoggs since the Autumn attracting several extra buyers from the south, trade again was much dearer on the week with numbers short of buyers requirements to average £51.11 overall.
Top was £76.50 for Beltex from Carslae; Texels £74.50 Aikers & Brocklerig; Charollais £70 Carslae; Suffolks £73.50, £72 Carslae; North Country Cheviots £70.50 Allfornought; Hill Cheviots £62.50 Granton; Cheviot Mules £66 High Stenries; Greyface £54.50 Liscleugh; Blackfaces £57.50, £53.50 Drummuchloch.
Cast ewes £48.50 Blinkbonny. Cast rams £65.50 Lintongate.
The 707 inlamb sheep included a dispersal of 236 Blackface sheep from A & E Brown & Son, Ashiestiel, Clovenford, Galashiels whose top was £71 and averaged £64.83. A large crowd was present and a good trade prevailed throughout. Top was £98 for in-lamb Greyface hoggs from New Hummerbeck, in-lamb Ewes sold to £86 for Hill Cheviots from Alfornaught; Texels £80 Ashiestiel and Greyfaces £80 West Challoch. Geld hoggs £64 Ashiestiel.
---