The Cumberland & Dumfriesshire Farmers Mart P.L.C. had forward 2,233 Store Hoggs and Feeding Ewes, also 854 In-lambers at their weekly sale at Longtown on Tuesday 12th March, 2013.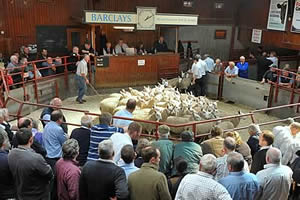 Another excellent entry of Store hoggs met the best trade of the season.
Top of £85.50 for a Charollais from Dinwoodie Green; Texel £84.50 Barnglieshead, £82.50 Dinwoodie Green; Beltex £83.50 Dinwoodie Green, £77.50 Stenries; Suffolk £73.50 Barnglieshead, £72.50 Shaw of Dryfe; Greyface £69.50 Allenheads, £66.50 Midtodhills, £62.50 High Parkfoot; North Country Cheviot £69 Adderston Shields; Blackface £60 Barnglieshead, £58 Woodside, £56.50 Clover Hill; Hill Cheviot £58.50 Woodside, £57 Glendinning; Romney Marsh £54.50 Hazelbank; Swaledale £54 Woodside; Herdwick £38.50 Rowhead.
Cast ewes to £57.50 High Aketon, cast rams £53.50 Haswellsyke.
The 854 In-lambers were a very good entry, plenty of buyers were to the fore and trade was excellent throughout, many more could have been sold to vendors advantage.
Top of £140 for Texel gimmers from Backmuir; Greyface £138, £137 (x3) Warren Farm; Cheviot Mule £131, £128 Warren Farm.
In lamb ewes to £116 for Greyface from Backmuir; Texel £112 Backmuir; North Country Cheviot £98 Backmuir.
Geld ewes hoggs to £90 for Greyface from The Gall; Swaledale £86 The Gall; Texel £75.50 High Aketon.
---
© 2015 - C & D Auction Marts Limited