The Cumberland & Dumfriesshire Farmers Mart PLC had forward 1,503 Store Hoggs and Feeding Ewes, also 331 In-lambers at their weekly sale at Longtown on Tuesday 26th March, 2013.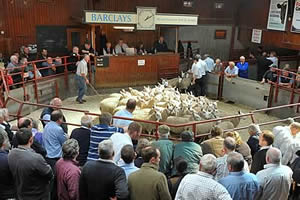 Store hoggs still very dear. Top of 80 for Texel crosses from Crookston, others £77 The Flatt; Beltex £76 Crookston; Greyface £68 Crookston; Suffolk £68 Flatt, £67 Foulshiels; North Country Cheviot £67.50 Raehills; Cheviot Mule £66 Linton House; Hill Cheviot £64 Dinley, £63 Crosscleugh; Charollais £58.50 Burncroft; Half Bred £55.50 Marwhirn; Blackface £42 Skelfhill and Brigg.
Cast ewes to £48 Foulshiels.
The in-lamb ewes met a great trade from a good crowd of buyers. Top of £83 and £80 for Greyfaces from Geltsdale who also sold Cheviot Mules at £76 and Hill Cheviot crosses at £78 and £74 with Blackfaces to £57.
---