The Cumberland & Dumfriesshire Farmers Mart PLC had forward 1,250 Store Hoggs and Feeding Ewes, also 281 Ewes with Lambs at foot at their weekly sale at Longtown on Tuesday 9th April, 2013.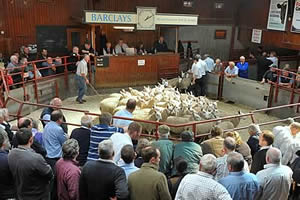 Store hoggs very dear for the time of year.
Top of £85.50 and £80 for North Country Cheviots from Carruthers; Texel £83.50 Hillview, £75.50 Greyside; Blackface £72.50 Hillview, £62 Horseholme; Greyface £67.50 Greyside, £61.50 Hillview; Romney Marsh £61.50 Holme Farm; Suffolk £60.50 Greyside; Hill Cheviot £59.50 East Deloraine.
Cast ewes to £84.50 Holme Farm, cast rams to £85 Greyside.
At the first special sale of ewes with lambs, a good entry attracted many buyers, all classes met an exceptional trade and were short of requirements. Top was £71.50 for Half Bred ewes with singles from Cumleys; Texel £60 Farmers Close; Greyface £60 Farmers Close; Beltex £56 Farmers Close. Ewes with twins to £47 for Cheviot crosses from Linton House; Greyface £44 Farmers Close. Goats with singles to £30 Brackenside.
---