The Cumberland & Dumfriesshire Farmers Mart PLC had forward 1,081 breeding sheep with lambs at foot at Longtown on Tuesday 11th June 2013.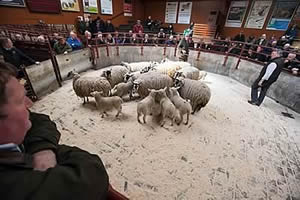 Another excellent entry attracted more buyers, all classes easily maintained last weeks high rates.
Top of £78 for a Suffolk x hogg with single from Whitstonehill.
PRINCIPAL PRICES
Hoggs with singles
Suffolk £78 Whitstonehill; Greyface £77, £72 Prospect; Texel £74 (x2) Glenwrath Cottage, £70 The Gill.
Hoggs with twins
Texel £74 Glenwrath Cottage.
Shearlings with singles
Greyface £65 Linton House.
Shearlings with twins
Suffolk £69, £66.50 from New Hummerbecks; Texel £64 New Hummerbecks.
Ewes with singles
Texel £68 Linton House; Greyface £51 West Moss Side; Hill Cheviot £46 Linton House.
Ewes with twins
Texel £66 Netherton, £58.50 New Hummerbecks; Greyface £58 Netherton, £51 West Moss Side; Hill Cheviot £53.50 Linton House; Blackface £46 Linton House.
Goats with twins
£34, £30, £29 Breconside.
Geld hoggs to £95 for Greyfaces from Linton House; North Country Cheviot £78 Clifton on Bowmont.
---