The Cumberland & Dumfriesshire Farmers Mart P.L.C. had forward 895 breeding sheep with lambs at foot at Longtown on Tuesday 25th June 2013.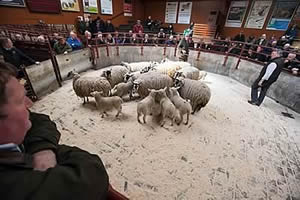 The largest company of buyers yet and an outstanding show of sheep forward met the dearest trade of the season and were far short of requirements.
Top of £89 and £88 for Texel hoggs with singles from Quarry House.

PRINCIPAL PRICES
Hoggs with singles
Texel £89, £88 Quarry House, £79, £78, £77 Low Stanley; Greyface £80 Prospect; Suffolk £80 Low Stanley.
Shearlings with singles
Texel £64 Hillside.
Shearlings with twins
Greyface £70 Quarry House.
Ewes with singles
Texel £78 Greenlaw; Hill Cheviot £58 Mossknowe.
Ewes with twins
Texel £80 Greenlaw; Hill Cheviot £58 Mossknowe; Greyface £51 Low Stanley.

Store hoggs to £74 Greenlaw, cast ewes to £87 Low Stanley.
---
© 2015 - C & D Auction Marts Limited