The Cumberland & Dumfriesshire Farmers Mart P.L.C. had forward 312 breeding sheep at Longtown on Tuesday 9th July 2013.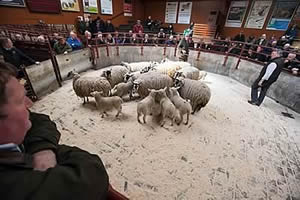 A smaller entry, trade again very good.
Top of £92 for Texel x gimmer shearlings from Broadhaugh who also sold Suffolk crosses at £88.
Correct breeding ewes to £88 for Suffolks from Linton House who also sold Texels at £74 and Greyface at £73.
Ewes with lambs sold to £56 each for Greyface and twins from Brewery House who sold Blackfaces at £50 and Swaledales at £41.
Store hoggs to £65 Broadhaugh, £59 Whitfield.
Feeding ewes to £34.50 Linton House.
---
© 2015 - C & D Auction Marts Limited