The Cumberland & Dumfriesshire Farmers Mart P.L.C. had forward at their Opening Sale, 830 breeding sheep, 46 rams and 2,519 store lambs at Longtown on Tuesday 30th July 2013.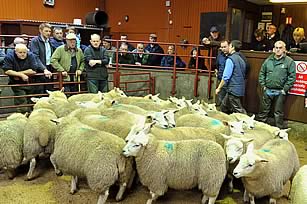 Breeding sheep were easy to sell with many customers present, trade very similar to last year. Top of £105, £102 for Suffolk cross ewes from Linton House, others to £104 Cardew Hall; Texel £104 and £99 Cardew Hall; Greyface £88 Cardew Hall; Leicester £86 Linton House; Charollais £84 Cross House; North Country Cheviot £80 Linton House.
Shearlings £100 for Greyface from Raby Grange; Texel £93, £92 Linton House; Lleyn £78 Over Langshaw.
A larger than usual show of rams met a firm trade. Top of £270 for a Suffolk shearling from Linton House, others £218, £172 and £170 Treaty Park who also sold Texel at £110.
Store lambs were a large and quality show and attracted a packed ring of buyers, with several distant buyers present, all classes met a very sharp trade and were easy to sell. Averages fell £2 on the year.
Top of £72 for Texels from Oliver Road, others £67.50 Sathells, £65 Bewcastle Demense; Suffolk £66 Satchells and Greenwell Meadows; Cheviot Mule £58 Cooms, £55.50 Barkbeth; Charollais £54.50 Haswellsykes; Greyface £54 High Edges Green, £52 Middlemoor; Lleyn £45.50 Dolphinston.
---
© 2015 - C & D Auction Marts Limited