The Cumberland & Dumfriesshire Farmers Mart PLC had forward 2,494 store lambs and breeding ewes at Longtown on Tuesday 13th August 2013.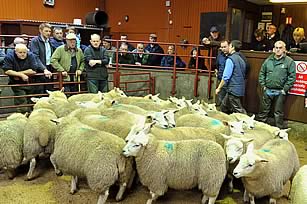 Store lambs a good entry, attracted plenty of buyers, trade sharper on the week.
Top was £68 for Texels from J Potter, The Park others to £64 Throp & Viewley Farm; Suffolks £63.50 Satchells and Hullerbank; Beltex £62.50 High Airyolland; Cheviot Mules £63 Viewley; Hampshire £55 Whitehouse.
At the special sale of Mule Lambs a good entry met a keen trade with best making between £50 to a top of £53.50 for a pen from Merryknowe, others £53 Williamston and High Airyolland and £52.50 Broadmea. Smaller lambs sold at £45 to £50.
Cast ewes £65.50 Park.
Breeding sheep were a larger entry, all classes proved easy to sell. Correct Texel ewes to £92, £89 South Mains who also sold Suffolks £89 and Halfbreds £78. Greyfaces £75 Farmers Court; Beltex £79 Park.
Beltex Rams £135 High Airyolland.
---
© 2015 - C & D Auction Marts Limited