The Cumberland & Dumfriesshire Farmers Mart PLC had forward 6,841 store lambs at Longtown on Tuesday 24th September 2013.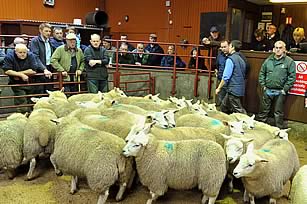 The best show of sheep this Autumn attracted many local and distant buyers, all classes were again a strong demand. Top of £74 for Texel crosses from Messrs McNeil, Toftholm, Newcastleton, others £70.50 Rinnion Hills, £70 East Foreshield; Dutch Texel £70 Greenside; Charollais £67, £62.50 Satchells; Suffolk £65.50 Rinnion Hills, £64 Satchells, £63 Lea Hill; Cheviot Mule £64 Byers Farm; Lleyn £61 Castle Creavie; Greyface £59 Satchells, £58 Allensgreen; Blackface £46 Megdale, £45 Collin Bank and Sundhope, £44 Westerhall and Auchengruith; Swaledale £40 Winshield.
Cast ewes to £66 Hazelbank, cast rams to £62 East Foreshields.
A tremendous entry of 3,260 Cheviots was forward, distant buyers more numerous, trade sharper. Top Hill Cheviots from Glendinning made £60.50, others £60 Arkleton and Winterhope, £59 Cooms and £58 Girnwood. North Hill Cheviots to £63 Hownam Grange, £60.50 Morebattle Tofts.
---
© 2015 - C & D Auction Marts Limited