The Cumberland & Dumfriesshire Farmers Mart P.L.C. had forward 6,779 store lambs (including 2,100 Cheviots and 2,290 Blackfaces) at Longtown on Tuesday 29th October 2013.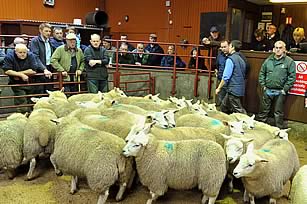 Another large show of lambs met strong competition with prices again advancing on the week.
Top of £76 for Beltex's from Whitstonehill, £75, £74.50 Sharplaw; Texel £75.50 Rinnion Hills and Cherry Garth, £74 Pallet Hill; Cheviot Mule £70.50 Soutra; Suffolk £70 Leahill, £67 Isle of Dalton; Greyface £65 Lowes, £64.50 Bayldon, £64 Soutra; Half Bred £61.50 Gilston; Swaledale £42.50, £41.50 East Unthank, £40.50 Winshield, £38.50 Deadwater and Hesket House. Cast ewes to £56 Scarlett Hall, cast rams £37 Deadwater.
The sale of both Cheviots and Blackfaces boosted another strong entry with trade again at extreme rates. Top for Hill Cheviots was £64 Skelfhill, £63 Potholm and Granton, £60 Glendinning. Hill Northies to £67.50 Bradley, £64.80 Whitton, £64.50 Twislehope. Blackfaces to £63 Cathpair, £60 Sewing Shields and Lockenkit, £58.50 Horseholme.
BREEDING SHEEP

The Cumberland & Dumfriesshire Farmers Mart P.L.C. held their sale of 2,573 breeding sheep at Longtown on Tuesday 29th October 2013.
A large and good show of sheep attracted a packed ring of buyers from a wide area, trade was very good for both lowland and hill ewes.
Top of £100 for Charollais ewe lambs from Springfield Farm; Beltex £95 Springfield; Texel £78 Mossview Cottage; Greyface £66 Tecket; Suffolk cross £66 Rosgill Hall; Cheviot Mule £64 Rosgill Hall; Cheviot £53 Rosgill Hall.
Shearlings sold to £84 for Texels from Patties Hill; Cheviot Mule £78 Gilston; Blackface £70 Haithwaite; Cheviot £65 Low Fauldside.
Lowland ewes sold to £98 for Texels from 2 Mossedge and Greyface from Kilncroft; Charollais £92 (x2), £88, £87 Childitch; Leicester £88 Glenafon; Cheviot Mule £78 Tushielaw; Lleyn £70 Hangingshaws.
Hill ewes to £55 for Cheviots from Cooms, others £52 Dalefoot; Herdwick £54 Greenside Lodge; Blackface £50 Haithwaite and Rosgill Hall, £48 Lochenkit, £46 Laghead; Swaledale £50 Greenleycleugh.
The 39 rams met a strong trade for quality. Top of £280 for a 3 shear Texel from Cypress Way. Shearlings to £260 for a Charollais from Wester Parkgate; Texel £240 Gillside. Ram lambs to £260 for a Charollais from Wester Parkgate.
Included in the sale were two dispersals which both sold very well, the first from J. Buxton, Childitch Farm, Brentwood, Essex, which were 200 Charollais cross ewes selling to £92 (3 shear), £88, £87 (3 shear), £72 (4 shear).
The second from Messrs Weightman, Rosgill Hall, Bampton, Penrith, which were over 600 mainly Hill North Cheviot ewes, their top was £76 for Texel ewes, Cheviots £60, Blackface £50, Suffolk £60, ewe lambs to £74.
---
© 2015 - C & D Auction Marts Limited