The Cumberland & Dumfriesshire Farmers Mart P.L.C. had forward 8,033 store lambs (including 2,044 Cheviots and 2,122 Blackfaces) at Longtown on Tuesday 5th November 2013.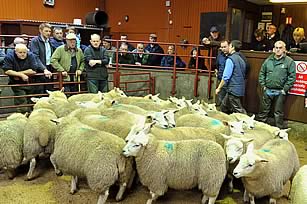 Another large and excellent show of lambs attracted the usual large company of local and distant buyers with trade again animated from start to finish with all vendors highly delighted.
Top of £73.50 for Texels from Routin Lynn, others £72.50 Birchcraig, £72 Throp and Bradley; Suffolk £71.50 Faugh Beeches, £70.50 Shield Green, £70 Glenkiln Farms; Beltex £70 Clerkhill and Rinnion Hills; Greyface £64 Penpeugh, £62.50 Tillery, £62 Allensgreen, Cathpair and High Street; Cheviot Mule £63 Meiklewhitriggs; Charollais £62.50 Hazelbank; Herdwick £49.50 Achingill; Swaledale £47.50 Lilswood Cottage, £43 Sheepriggs.
Tup lambs to £80 Blackburn. Cast ewes to £61 Winshield, cast rams to £38 Greenleycleugh.
Both the Hill Cheviot and Blackfaces easily maintained late extreme rates with Hill Cheviots to £67.50 Whitstonehill, £67 Hopsrigg, £66 Granton. Hill Northies to £68 Whiteknowe, £64 Alnham Castlehill. Blackfaces to £60 Upperburnmouth, £58 Spadeadam, £57.50 Gibbs Hill, £57 Penpeugh and Stellgreen.
Breeding sheep met a good enquiry selling to £67 for Greyface ewe lambs from Allensgreen, who also sold Blackfaces at £55 with Texels to £65 Low Old Shield, Blackface £53.50 Low Old Shield. Blackface gimmer shearlings to £58 Haithwaite.
Correct ewes to £50 for Blackfaces from The Ash with Hill Cheviots to £54 Linton House.
---
© 2015 - C & D Auction Marts Limited