The Cumberland & Dumfriesshire Farmers Mart PLC had forward 6,084 store lambs and feeding ewes (including 1,247 Cheviots and 846 Blackfaces) at Longtown on Tuesday 19th November 2013.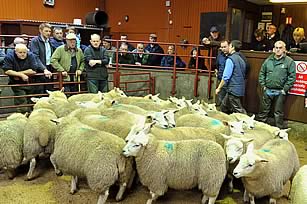 With many Welsh and Southern buyers present, another excellent show of lambs met a fast selling trade with current rates easily maintained.
Top of £74 for Texels from Lowfield House and Beltex from Sharplaw Farms who sold others at £73 and £70. Other Texels to £72 Longrigg and Sydenham, £71.50 Gillalees; Suffolk £71 Satchells; Charollais £71 Sydenham; Cheviot Mule £66 West Farm, £64 Gilston, £63.50 Branxholm Braes; Greyface £63.50 Marr, £62.50 Liscleugh, £61 Viewley; Leicester £60 Marr; Lleyn £59 Gatehousecote; Zwartbles £52 West Farm; Swaledale £49.50 Parkhouse, £32 Allenheads.
Feeding ewes to £72 Oliver Road, Blackface £54 Craigburn. Cast rams to £58 Aikers.
The Cheviots and Blackfaces again met the dearest trade of the season. Top £64.50 for Hill Northies from Blakehope, others £64 Adderston Shiels, £63 Alnham Castlehill. Hill Cheviots £63.50 Potholm and Crowdieknowe, £60.50 Hartsgarth. Blackfaces to £57 Crookburn, £54 Gibbs Hill, £53.50 Crowhall Farms.
---
© 2015 - C & D Auction Marts Limited