The Cumberland & Dumfriesshire Farmers Mart P.L.C. had forward 5,064 store lambs and feeding ewes (including 1,282 Cheviots and 1,101 Blackfaces) at Longtown on Tuesday 26th November 2013.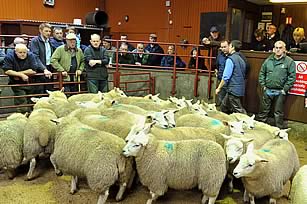 Another great show of lambs and plenty of buyers from the south, trade was on par with last weeks high rates.
Top of £82 for a Texel lamb from Gillalees, others to £74 Dinwoodie Green and Kingside, £73.50 Winshields; Charollais £73 Pates Hill; Beltex £71.50 Pallet Hill; Suffolk £68 Gillalees, £67.50 Staffler, £67 Beech House; Cheviot Mule £67.50 Kingside; Greyface £66.50 Cowden, £64.50 Woodside, £60.50 Upperburnmouth, £60 Parkhouse; Half Bred £63.50 Adderston Shiels; Romney Marsh £60 Meikle Richorn; Roussin £51 Debog; Swaledale £50 Kilncroft; Herdwick £35 Parkhouse.
Feeding ewes to £68 Minto Kames, hill types £41.50 High Chesters. Cast rams to £58 Minto Kames.
The Cheviot lambs were a better show with Blackfaces similar. All classes again met an exceptional trade.
Top £67 for Hill Northies from Bradley, others £66 North Synton, £63 Yetholm Mains. Hill Cheviots £59 Terrona, £55.50 Sorbie. Blackfaces to £58 Cowden.
---
© 2015 - C & D Auction Marts Limited