Dumfries Pig Sale
A much smaller show was forward at the sale of pigs at C & D Auction Marts, Dumfries on Monday 5th April but quality was very good.
Weaners sold to £42 for fine British saddlebacks from Mr Ian Burgess, Dumfries with young breeding gilts to £72 for a cracking pure Large White from Mr Drummond, Stranraer. Serving gilts sold for £120 for a cross-bred from Messrs I & R Leadbetter, Fife.
Butcher's pigs were in keen demand and hotly contested with top quality baconers selling to £189 and £185 for superb pure Large Blacks from Ardyne Estate who, again, topped the market.
The next sale will be on Monday 3rd May to include the Special Spring Sale of weaners.
---
A rather smaller show of 90 pigs were forward at Dumfries Mart for their monthly sale on Monday 8th March 2021, but quality was excellent throughout with trade topping at £175.  Sellers were present from across Scotland with some new buyers operating.
Breeding gilt weaners were easily sold to £92 for Oxford Sandy Blacks from J.D.M. Thomson, Newlands & £65 for Saddlebacks from Ian Burgess, Maryfield.  Other weaners met a mixed trade & porkers were in short supply but sold at an acceptable rate given the current national trends and over-supply. Quality crossbred cutters sold really well to £165 for Pietrain/Gloucester Old Spots from Robert Kirkwood, Mouswald Grange. Baconers too met demand with exceptional Large Black gilts from Ardyne Organic Farms making to £175 with others at £168 & £165 from Ardyne & £160 & £140 ex Chapelton, Auchenblae.
Breeding pigs were in shorter supply than anticipated but sold to £160 for a crossbred in-pig gilt consigned by D. Morley, Chapelton, Auchenblae.  Cast sows & boars were a little ahead of the very depressed current national market but with a very moderate top of £63.
---
At the monthly pig sale on Monday 8th February 2021 at Dumfries Mart, C & D Auction Marts sold 215 pigs, their largest entry for some time.
New buyers were in attendance and quality large prime pigs met a good trade, going to £160, as did small weaners which sold to £62 for British Saddleback gilts from Messrs Mitchell, Banff.  Cast sows sold well relative to the national trend but intermediate weights, stores and light prime porkers, attracted only moderate demand, again reflecting the national state of the pig trade.
Baconers sold to £160, heavy cutters to £130, cutters to £115, porkers to £72, cast sows to £60, breeding gilts to £134, in-pig sows to £130 & young boars to £120.
---
This was the first anniversary of the successful re-commencement of monthly pig sales at the mart and 103 were sold on Monday 14th December 2020.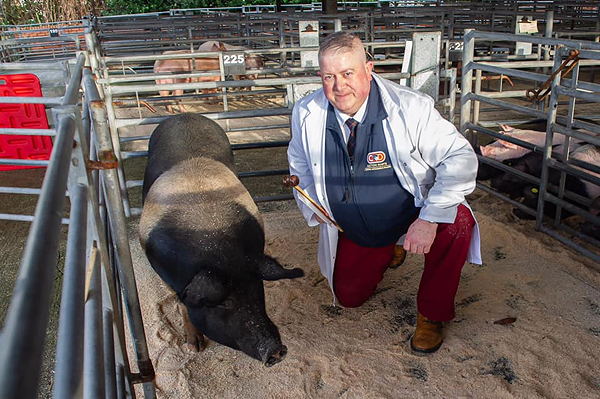 A small herd dispersal from Mark Day, Carlcroft, Harbottle, Northumberland produced the day`s top price, £300 for a four year old purebred British Saddleback sow, in-pig to the stock boar.  She was purchased by M.J. & J.A. Dobson, Hillhead, Auldgirth, Dumfries.  Others breeding pigs sold to £150, also from Carlcroft.
In line with national trends, store and prime pigs were slightly harder to cash on the month. Cutters sold to £100 from SRUC, Easter Howgate; weaners topped at £50 for British Saddleback gilts from Gary Scott, Broxburn; porkers sold to £80 for some exceptional Duroc gilts from Jason Knaggs, Doncaster who also sold boars at £70.  Baconers and cast pigs sold to £100.
---
C & D Auction Marts had 102 pigs for their monthly sale at Dumfries on Monday 2nd November 2020. 
In line with national trends, accentuated by the upcoming lock-down, all classes of fat and cast pigs proved harder to cash.
Weaners and breeding pigs were easier sold with pure Duroc weaners, all the way from Chester, selling to £48 twice from Deva Durocs who also topped the in-pig section with an aged Duroc sow at £130. A Kune sow with a litter of seven took £170.
Cast sows made to £105; baconers to £80 for Large Blacks; cutters to £105 for Tamworth crosses and porkers to £70. 
The next pig sale, the Christmas Sale, will be on 14th December.
---
The monthly sale of pigs at Dumfries Mart was held on Monday 5th October 2020. 
Despite current slightly depressed trends in the pig trade, a larger show of some 150 head were forward with some very good quality entries.  There was a good ringside of bidders with strong demand for meat types and more could have been sold.  However, the seasonal drift away of enthusiasm for long keep weaners was evident.
Weaners to £50 for Saddlebacks; Porkers to £62; Cutters to £114; Baconers to £135; Sows to £120 and Boars to £115.
---
A quality entry of over 100 pigs were forward for the monthly sale at Dumfries Mart on Monday 7th September 2020 with buyers from as far afield as Midlothian and Lancashire.
Prices for sows and heavy pigs were at a lower rate on the month, in line with national trends, and there was plenty of demand for breeding females.
Sows sold to a top of £155, baconers to £150, cutters to £130, porkers to £70 and young weaners at up to £50.   Native breed in pig sows were topped at £150 with a Saddleback sow and her litter at £250.
---
At Dumfries, C & D Auction Marts held their monthly sale of all classes of pigs on 10th August 2020 with a smaller but good quality entry and an exceptional trade.
Top price was for a superior in-pig Saddleback sow, Freestone Dinah 20th in pig for the second time and sired by Nancenoy Grand Duke 12th.  From Mrs Rowan Simms of Masham, North Yorkshire, she sold for £260. 
Saddleback breeding gilts sold to £210 with a Saddleback boar at £180.  A purebred unregistered Tamworth unserved sow made £210 and a strong consignment of heavy cast sows from one farm sold to £205 and averaged £190 for a pen of six.
Baconers sold to £190, cutters to £180 and porkers to £130. 
---
At Dumfries on Monday 13th July, C & D Auction Marts held their monthly sale of pigs on Monday 13th July 2020.
A smaller entry was forward but with a good quality selection of traditional breeds, mainly Saddleback, Gloucester Old Spot and Tamworth. Sows reflected the lower trade generally on the week and made to £165 but other classes sold well with baconers to £150, cutters to £120, porkers to £100 and weaners to £65.
Entries to Robert Weir 07885 729495 or Office 01387 279495
---
C & D Auction Marts Ltd recommenced their monthly sales of pigs at Dumfries on Monday 1st June 2020.
There was an excellent show of pigs forward from as far afield as North Yorkshire and the Mull of Kintyre.£ Attending and agency buyers were keen for stock and all classes met serious competition. Many more could have been sold to seller`s advantage.
Sows and boars sold to £160, Baconers to £150, Cutters to £105, Porkers to £72 and Weaners to £58.
---
C & D Auction Marts Ltd held their monthly sale of pigs in Dumfries on Monday 9th March 2020.
A great show for quality and supply forward to a very keen ringside of buyers for all classes of pigs. Butcher buyers especially making their presence felt. Heavy pigs easy to cash especially baconers, cast sows & boars, with demand seriously outstripping supply.
Sows & Boars to £230
Baconers to £180
Cutters to £155
Porkers to £80
Weaners to £65
---
C & D Auction Marts Ltd held their monthly sale of pigs in Dumfries on Monday 10th February 2020.
A great show of pigs forward to a large ringside of buyers sold at an expectional trade. Most classes were keenly sought after. Sows being the keenest sold to £210, baconers to £160, porkers to £130, weaners to £65.
---
C & D Auction Marts Ltd held their inaugural show and sale of pigs in Dumfries on Monday 9th December 2019.
All classes of pigs were well supported and a keen ringside of buyers saw a brisk trade ensue. Weaners were harder to cash. Porkers and cutters sold well to vendors expectations and sows and boars were hotly competed for overall a successful sale for quality sorts.
Champion gilt sold to £140 from£ SAC College, Easter Howgate.
Weaners to £80, Light Porkers to £85, Growers to £45, Cutters to £100, Baconers to £120, Sows to £140, Boars to £110.