Dumfries Dairy Sale Report
Dairy Cattle on Monday 3rd May 2021 sold to reasonable rates given the current weather conditions.
In Milk Holstein Cow sold to £1650 Brownfield
In Milk Heifer sold to £1465 Brownfield
---
Dumfries Auction Market had forward a small show of good working pure Holstein 1st Calvers. on Wednesday 21st April 2021.
A smart looking Heifer doing 31 litres sold to £1790 with plainer sorts selling at a slightly lighter trade and averaging £1655.
Many more sought for the next sale on Monday 3rd May at 1.15pm.
---
There was a total clearance of the 21 head forward at the dairy sale at C & D Auction Marts, Dumfries, on Monday 5th April 2021 and more could have been easily sold. 
A small dispersal of plainer but milky sorts of black and white cows from the Scottish islands looked decent value at up to £700 for both fresh calvers and cows in milk. 
A stylish group of pure Ayrshire yearling heifer stirks from Messrs Rankin, Badenheath, Glasgow were very well received and topped at £800 and £700 (twice).
---
At Dumfries, on Monday 8th February 2021, C & D Auction Marts sold 34 dairy cattle at their monthly sale.
A consignment of Fleckvieh and Red Procross heifers and young cows sold to £1,580 for Fleckvieh and £1,520 for Procross, both going to D.J. Kincaid Ltd, Slacks.  Others sold to £1,460, £1,450 and £1,440 with an overall average of £1,300.
A nice run of Montbelliard bulling heifers from Smallrigg were keenly bid for.  They averaged £856 and topped at £960 to Messrs McKelvey, Burnside.
---
At the Christmas sale of dairy cattle at Dumfries Mart on Monday 14th December 2020. There was a sound trade throughout. 
The calved heifers were topped by a Montbelliard cross, three weeks calved and giving 30 litres, from Mr Ian Burgoyne, Shenrick which sold for £1,820. 
Others sold to £1,640 and £1,590 to average £1,571. Bulling heifers sold to £900 per head for a pair of British Friesians from Mr Jim Ferguson, The Park.  Many more could have been sold to advantage and the next Dumfries Dairy Sale is on 8th February.
---
A small but select entry was forward for Dumfries Auction Mart's monthly sale of dairy cattle on Monday 2nd November 2020. 
The sale was topped by Mr Ian Burgyone, Shenrick with a first class three-way cross 1st calver. Yielding 33 litres and rising, she was knocked down at £1,910, a record for this season so far.  This was closely followed at £1,900 for her neighbour from the same home, also a three-way cross 1st calver, putting out 31 litres. 
A tremendous 1st calving Holstein heifer sold to £1,800 from Newhouse Farming and a six-year old British Friesian stock bull sold at £1,100 for Mr A Orr, Carserigg. 
All others, including Holstein heifer calves met good demand. 
The next monthly dairy sale is the Christmas sale on 14th December. Early entries are invited.
---
C & D Auction Marts Ltd held their monthly sale of dairy cattle on Monday 15th June 2020.
A fine selection of various kinds to suit all pockets met a brisk trade and were keenly bid for by a competitive ringside of buyers. The day topped at £1880 with a cracking Norweign Red cross 1st calving heifer of tremendous working capacity from M/s Burgoyne, Shenrick. Also to £1880 for a productive Holstein Cow from Muirside.
Ayrshires sold to £1750 with a useful run of heifers from Muirside. Montbelliarde to £1550 Shenrick and British Friesian in calf heifers to £1350 Tara.
---
C & D Auction Marts Ltd held their Spring Show and Sale of Dairy Cattle in Dumfries on Monday 23rd March 2020.
Many more could have been sold to vendors advantage.
A small but select entry all being a very colourful affair with several breeds forward for judging by our able judge, Bill Brough of Carlisle. The Champion a Fresh Calved Montbeliarde topping the day at £1810.
Montbeliarde - £1810 Shenrick, £1700 Knockeffrick.
Swedish Red - £1710 Shenrick.
Fleckvieh - £1700 Shenrick
Holstein - £1680 Shenrick.
Show kindly sponsored by Tarff Valley ltd.
---
C & D Auction Marts held their christmas show of Dairy cattle in Dumfries on Monday 9th December 2019.
Ably judged by Alistair Martin, Hightown of Craigs. The leading price of £1750 was achieved on three occassions for well balanced Red and White Holstein Heifers from The Cowhill Trust, Muirside.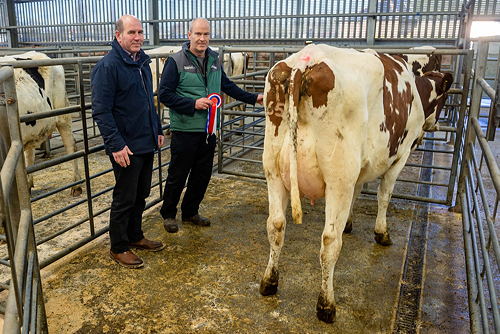 HF in Milk - £1750 (x3) , £1700, £1620, £1600 Muirside.
Ayshire in Milk - £1650 Muirside
Montbelliarde x Heifers calving February selling to £1400 and £1350 Shenrick.
NorRed I/c to £1300 Shenrick.
---
C & D Auction Marts held their Annual Christmas show and sale of Dairy cattle on Monday 10th December 2018.
Sponsored by Country and Commerical Insurance Brokers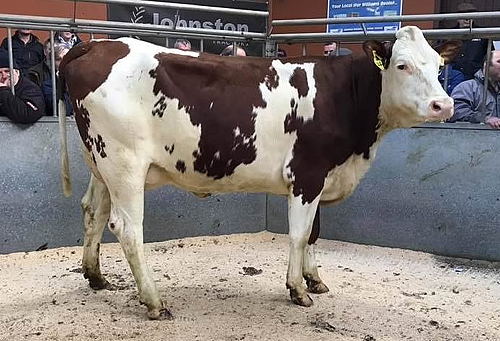 The judging was in the capable hands of Stuart Graham, Hillend who awarded the Championship Rosette to Ian Burgoyne, Shenrick with a Correct Fleckvieh x Heifer selling at £1950.
A fresh calved Montbeliarde x Heifer to £1900 Shenrick.
Holstein Friesian calved heifer to £1800 Waterside Mains.
Norweign Red Calved Heifers to £1800 Shenrick
Calved Ayrshire Heifers to £1600 Waterside Mains.
Lying off Heifers
Fleckvieh x to £1500 Shenrick
Holstein Friesian to £1400 Sherick, £1300 Smallrig
---
C & D Auction Marts were favoured with the sale of Dairy cattle on behalf of W Nelson & Sons, Longrigg, Torthorwald on
Saturday 24th November 2018
.
report
---
C & D Auction Marts held a sale of Dairy Cattle in Dumfries on Monday 12th November 2018.
Which included the Dispersal sale of Cows from Woodhead, Drumsleet.
The sale Topped at £1580 with a correct Holstein Friesian Heifer from HW Sloan, Rigghead.
The Stock Dispersal sold to £980 with a 6yo Fleckvieh x Cow
Dry Cows to £900
---
C & D Auction Marts held a sale of Dairy Cattle in Dumfries on Monday 28th May 2018.
Plenty of demand for the August calving heifers forward selling to £1480 and averaging £1364 from Smallrigg.
---
C & D Auction Marts held a sale of Dairy Cattle in Dumfries on Monday 19th March 2018.
Trade was competitive.
A Correct 2nd Calf Holstein Friesan Cow sold to £1650, Riggheads
Fresh Calved Heifers to £1500 Barnbarroch.
---
C & D Auction Marts held thir annual Christmas Show and Sale of Dairy Cattle on Monday 11th December 2017.
An excellent quality of fresh calved Heifers and Cows were presented to the days judge David Stoddart, Highlaw. After much deliberation the Championship was awarded to Boreland Farming Partnership, Colvend with a correct fresh calved Holstein Friesian Heifer selling to the Judge at £2000.
M Young & Sons, Waterside Mains then sold a Holstein Freisian Heifer at £2000
Norweign Red x Heifers from Shenrick Made £1750
Ayrshire Heifers to £1700 Waterside Mains
Montbeliarde x Heifers to £1700 Shenrick
New calved cows also met a competitive trade selling to £1650 Boreland of Colvend, £1550, £1450 Riggheads.