Dumfries Primestock Report
Cumberland & Dumfriesshire Farmers Mart held weekly Primestock Sale in Dumfries on Wednesday 29th July 2015.
90 Prime & OTM Cattle
Prime Cattle forward in numbers far short of buyers needs more required on a weekly basis.
Heifers Limousin to 240p, 234.5p from Gardrum, Eastriggs both to R Johnstone & Sons Butchers Annan
Bullocks Limousin to 217.5p Meikleholm, Courance to J Hall & Sons Butchers Kirkcudbright
OTM Cattle met a satisfactory trade although easier in keeping with the national trend.
Per Head
Angus to £1112.50, £953.60 Carruthers, £935.25 Shangan
Limousin to £1058.50, 3995.60 Meikleholm, £988 Relief, £946.05 Newbigging
British Blue to £1043.75 Netherfield
Holstein Friesian to £837 Prestrie, 3836 Hartfield, £822.25 Rue
Bulls Simmental to £1043.10 Meikleholm
Per Kilo
Limousin to 146p, 131p Meikleholm, 130p Relief
Angus to 129p, 125p Druidhall, 129p Shangan, 128p, 125p Carruthers, 127p Netherfield
British Blue to 125p Netherfield
Blonde to 123p Relief
Holstein Friesian to 115p Rue, 111p Prestrie, 111p Philgowan, 110p Hartfield
971 Prime Sheep forward
721 Prime Lambs – Trade continues to ease with an over supply of out of spec lambs forward.
172 Lambs (32.1-39Kg) ave 146.8ppk to 186.5ppk Nether Dargavel
Beltex to £69, £60 Nether Dargavel, £61.50 Park
Texel to £67, £62 Skipmyre
479 Lambs (39.1-45Kg) ave 141ppk to 162ppk Meikleholm
Texel to £73 Meikleholm, £65 Kerricks, £62 Shieldhill, £62 Bush, £62 East Kirkcarsewell
Suffolk to £61 Barnbackle
70 Lambs (45.6-52Kg) ave 128.8ppk to 143ppk Sunnyhill
Suffolk to £64 Whinnyhill
Texel to £67, £65 Meikleholm, £75 Kerricks
Beltex to £66 Sunnyhill
250 Cast Ewes – Trade steady
Texel to £84.50 Shieldhill, £83.50 Druidhall
Mule to £76.50, £70.50 Waterside, Dalry
NCC to £78.50 Annefield
Blackface to £75.50, £75.50 Waterside, Dalry
Rams
Texel to £133.50 Meikleholm
Mule to £89.50 Waterside, Dalry
Blackface to £82.50 Craigdarroch
Lleyn to £105.50 Ironlosh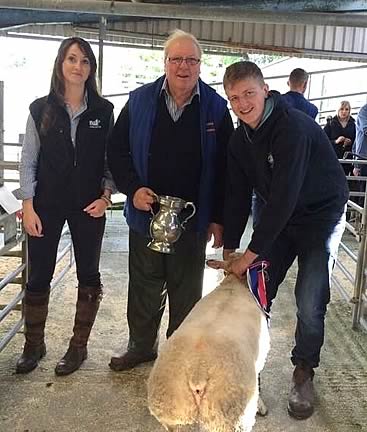 Junior Member Ian Carlisle with Judge W Mactaggart and Sponsor NWF
Lower Nithsdale Young Farmers held their Annual Show & Sale of Prime Lambs. A grand show of 26 pens was presented to the days judge W Mactaggart who found his champion from Junior Member Ian Carlisle, Nether Dargavel with a Beltex Lamb (37Kg) making £69 to Mutch Meats, Oxford.
Senior Class was won by Craig Goldie, Skipmyre with Texel 38Kg £67 to Euro Quality Lamb.
Open class was won by Carol Mair, Meikleholm with a Texel 44Kg £73 to J Hall & Son Butchers Kirkcudbright.