Dumfries Primestock Report
C & D Auction Marts Ltd held their Weekly Sale of Primestock in Dumfries on Wednesday 4th July 2018.
15 Prime Cattle: Trade good for a mixed offering.
Limousin Heifers sold to 234p and 232p from J Jardine, Yett.
Galloway Bullocks to 215p from JWK Paterson, Low Three Mark.
50 OTM's: Plenty of demand for all classes.
35 Dairy Cows Ave 114p/kg to 135p/kg and £1064.
15 Beef Cows Ave 129p/kg to 151p/kg and £1066.
Per Head
Cows
Holstein to £1064, £1058, £1010.60 Conheath
Friesian to £1008.60 Park
Limousin to £1066 Meikleholm, £906 Park
Angus to £838.20 Eastside
Per Kilo
Cows
Limousin to 151p Park, 141p Skipmyre, 139p Kirkbride, 137p Meikle Larbrax, 130p Meikleholm
British Blue to 139p Kirkbride
Friesian to 135p(x2), 127p Kirkland, 123p Park
Holstein to 133p (x2), 126p, 124p, 122p Conheath, 127p Newhouse
Hereford to 133p Eastside
Prime Sheep:
483 Prime Lambs: Trade in keeping with the national trend slipped back to average 195.7p/kg
94 Lambs (32.1-39kg) Ave 196.4p/kg to 226p/kg Drumburn.
Texel to £82 Maryholm, £82 (x2) Drumburn, £81 Cleughbrae
Beltex to £81 Cleughbrae
Millenium Blue to £77 Waterside of Terregles
363 Lambs (39.1-45kg) Ave 195.3p/kg to 250p/kg Cleughbrae.
Beltex to £100 Cleughbrae
Texel to £99 Glenhowan, £98 Drumburn, £95 Maryfiedl, £92 Maryholm, £90 (x2) Druidhall.
Charollais to £93 Craigend
26 Lambs (45.6 – 52kg) Ave 198.5p/kg to 248p/kg Glenhowan
Texel to £124, £105 Glenhowan, £96, £93 (x2) Meikleholm, £92 Burnfoothill
383 Cast ewes: Still remain a firm trade, light ewes easier on the week.
Texel to £144.50 Meikleholm, £137.50, 110.50, Newmains, £120.50 Woodcroft, £108.50 Drumburn, £108.50 Fardingjames, £104.50 Nether Gribton.
Suffolk to £103.50, £92.50 Newmains, £93 Craigdhu
Leicester to £94.50 Fardingjames
Cross to £79.50 Branteth, £77.50, £72.50 Newmains
Easycare £74.50
Blackface to £63.50 Blairmulloch, £51.50 Meikleholm.
Young Handlers Competition
C & D Auctions held their Annual Young Handlers Competition and Summer Show of Prime Lambs Kindly Sponsored by Tarff Valley. Ably judged by David Sloan.

The young handlers professionally showed their lambs being a credit to their families.

Best young handler prize was awarded to 6yo Ayla Craig, Glenhowan showing a Black Texel lamb which sold to local butcher R Johnstone & Son, Annan.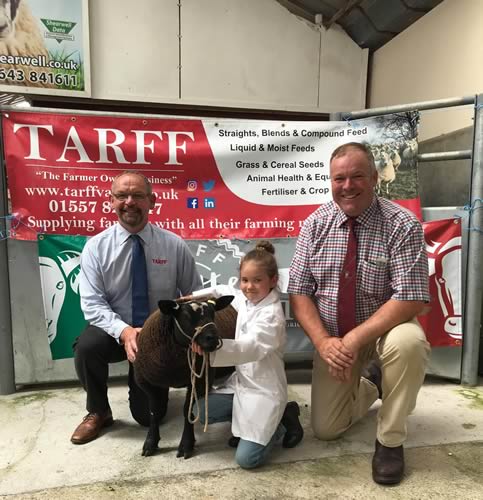 1st prize over 12 year old was won by Sean Dunbar, Burnfoothill selling his Texel Lamb to PR Duff & Son, Wishaw.
Ayla Craig, Glenhowan 50kg £124
Callum Muir, Cleughbrae 40kg £86
Craig Hyslop, Maryfield 44kg £95
Calla Shuttleworth, Drumburn 38kg £82
Correy Shuttleworth, Drumburn 38kg £82
Sean Dunbar, Burnfoothill 46kg £92.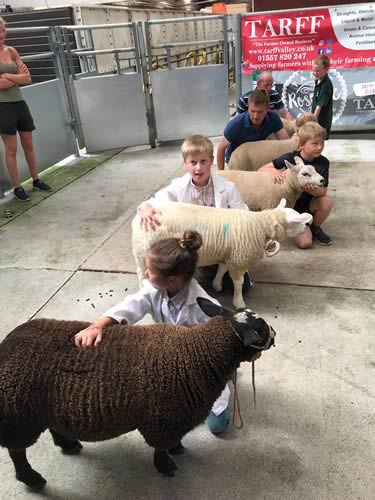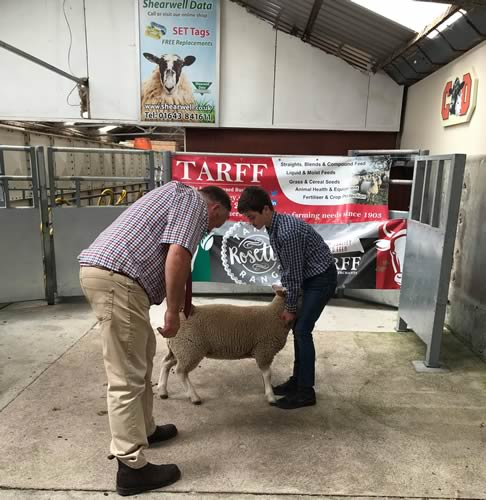 Summer Show
Best Pair of Lambs awarded to J Muir & Son, Cleughbrae with 40kg Beltex Lambs at £100 to the Judge.
Best Pair of Texel Lambs, Cleughbrae £41kg £89
Best Pair of Beltex Lambs Cleughbrae 40kg £100
Best Pair of AOB Waterside of Terregles 38kg £77.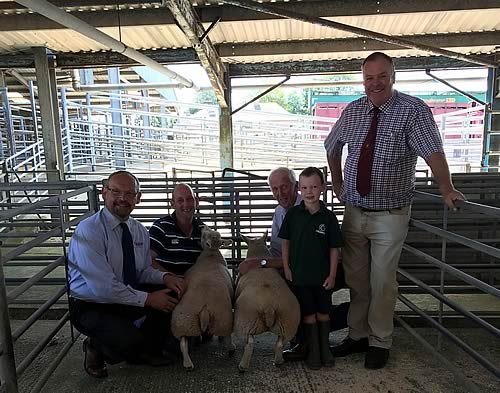 corresponding week 2017 sale report