Sale of Working Sheepdogs
Cumberland & Dumfriesshire held their Autumn Sale of 46 working collies and pups at Hammerlands, Moffat on Saturday 11th October 2014.
Trade was brisk with better broken dogs in short supply.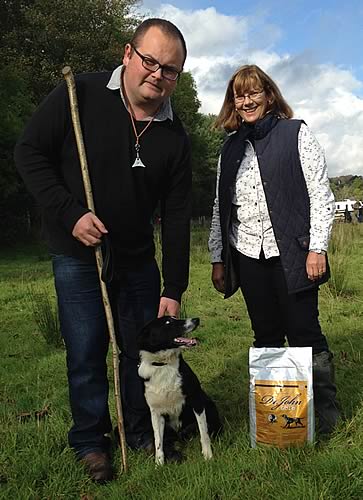 John Connolly with 'Dan' and Joan from Dr John Dog Feed
A 10 Month Old bare skinned Border Collie 'Dan' from John Connelly, Northern Ireland led the days trading at 2900gns (£3045) to an undisclosed Scottish buyer.
Next best at 2400gns (£2520) was given for 'Gem' a Black & White March 2013 born Bitch from Peter Hallam, Staffs by a regular Welsh Buyer.
Anthony McKeegan's, Co Antrim then sold 'Spot' a tricoloured 18 Month Old Dog at 2250gns (£2362.50) to a Welsh Buyer.
'Max' a 15 Month Old Black & White Dog from C McLaughlan, Cloontagh then sold for 2200gns (£2310) to M/S Millar, Dalry
Local seller Gilbert Marshall, Cocklicks sold 'Spot' a 5 Year Old Dog at 2000gns (£2100) to W Nixon, Newcastletown.
Broken Registered Dogs to 2400gns ave £1762
Broken Unregistered Dogs to 2900gns ave £1855
Unbroken registered Dogs to 1100gns ave £910
Next Sale at Moffat will be held on Saturday 14th March 2015.