Ervie Hereford Bull Sale 2014
40 Hereford bulls grossed £92,850.00 to average £2321.25
A crowd in excess of seventy people attend the Ervie Hereford Spring Bull sale on Saturday 3rd May 2014 held by the Douglas family at Mains of Airies, near Stranraer, in southwest Scotland.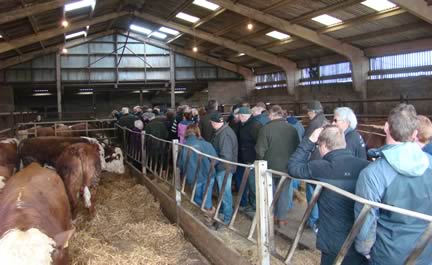 bull viewing
The annual on-farm sale has now reached its fifth consecutive year, having begun in 2010 as a means to promote the easy-fleshing and high maternal Line One breeding behind the bulls, but also offering commercial bull customers a source of naturally reared, unforced bulls, in good working condition.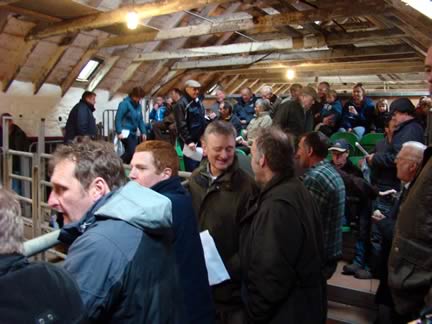 Ringside atmosphere
This year saw an increase in the number of bulls offered with forty going under the hammer of auctioneer Harry Begg from Cumberland and Dumfriesshire Farmers Mart. Trade was buoyant, with all forty bulls offered finding ready buyers and ranged from a high of £4,500 to a low of £1,600. Although local Wigtownshire farmers were out in force, bulls were also dispersed to Argyll in the west, Dundee to the east and Northumberland, Yorkshire and Cumbria to the south.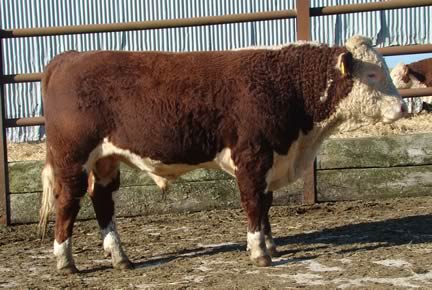 Sale Topper - Ervie Advance 121493
Topping the trade at £4,500 was Ervie Advance 121493. Sired by the imported bull Achiever 91151H and out of Ervie Oystergirl E992, he also boasted both the top Terminal Index of 34 and the top Maternal Index of 42. Buying him to take home to Northumberland was repeat buyer and Black Baldie producer Simon Bainbridge, a former beef monitor farmer for northeast England.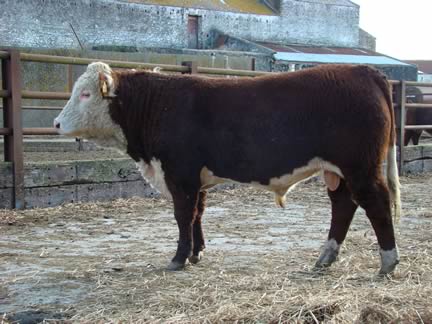 Ervie Advance 121503
Second bull in the ring was Advance 121503 reaching the joint second top price of £4000. This one was the favourite of many on the day and sold to established local Black Baldie producer Robert Parker to add to his strong battery of Ervie Hereford sires. Sired by Achiever 91149H and from the young cow, Ervie Carol Lily F1113, he boasted a well-balanced set of EBV's with a Terminal Index of 25 and a Maternal Index of 32.
Matching the £4000 price tag and selling to David and Maggie Kelly from Cumbria, was Advance 121462. This light birth-weight bull was also sired by Achiever 91151H and out of Ervie Dowager F1030. He sold with a Terminal Index of 26 and Maternal Index of 33 and goes for use on heifers from the Kelly's famous Limousin herd, but may later be used on some of their pedigree Hereford females. As recent newcomers to the Hereford breed, the Kelly's were impressed by the Line One females at Ervie and have purchased 46 pedigree Hereford females and an imported Line One stock sire from the Ervie herd over the past year in order to buy into the Line One genetics.
Volume buyer at the sale was Rory Christie for Dourie Farming Co. near Newton Stewart, buying nineteen bulls. New customer Charlie Russell for Glenapp Estate, South Ayrshire, bought eight.
At the end of the day, twenty-nine of the bulls on offer were sold to dairy producers whilst the remaining eleven bulls were sold for use in beef suckler herds. In general, the beef suckler producers who purchased, were interested in those bulls showing high yearling growth and good maternal trait EBV's, whilst calving ease and docility was definitely high on the agenda of most of the dairy producers.