Dumfries Store Cattle Sale Report
Cumberland & Dumfriesshire Farmers Mart PLC held their Spring Show & Sale of Store Cattle in Dumfries on Monday 24th March 2014.
314 Forward – Trade every bit as dear with demand outstripping supply. Buyers actively seeking all classes of Cattle.
200 Bullocks ave 230.4p to 287.5p and £1500
114 Heifers ave 215.4p to 252p and £1155
Prior to the Sale Mr W McIntyre, Almagill judged the Show Kindly Sponsored by Soltyre Ltd and made the following awards.
Best Animal – Limousin Bullock (12mo) from G & T Fitzsimon & Sons, Tregallon selling at £1380.
Best pen – Limousin Bullocks (11mo) from H & W McKie, High Threave £1050.
Native Bred – Blue Grey Bullocks from D McQueen & Son, Upper Barr £795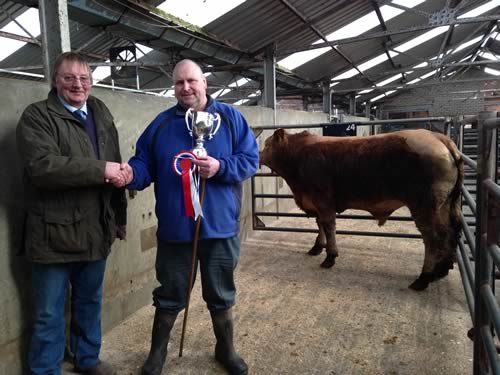 Best Animal - Tregallon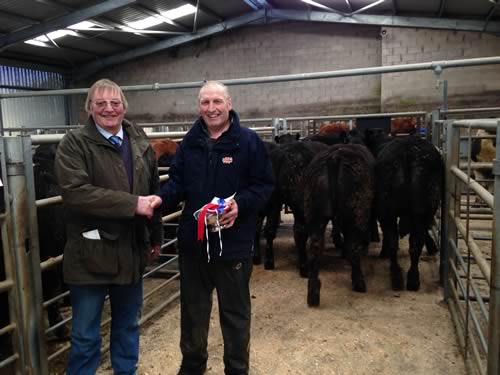 Best Pen - High Threave
Principal Prices
Bullocks
Limousin to £1500 High Threave, £1380 Tregallon, £1300 North Bower Houses, £1240 Tregallon, £1210 (x2) High Threave, £1145 Sunnyhill, £1140 (x6) Boreland, £1140 (x4) Sunnyhill, £1125 Mid Bishopton, £1100 (x4) Boreland, £1090 (X2) Shenrick
Charolais to £1135 (x3) Cormaddie, £1110 Foregirth, £1070 Mid Bishopton, £1035 (x2), £1004 (x11) Cormaddie
Simmental to £1140 Boreland, £1135, £1035, £1005 (x6) Cormaddie
Angus to £1105 (x3) Kirkbride, £980 (x4) Beastockrigg, £955 (x2) Dalswinton
Blonde to £1070 (x2) Foregirth
British Blue to £1035 (x2) Shenrick
Heifers
Limousin to £1155 Tregallon, £1110 North Bowerhouses, £1050 High Threave, £980 Tregallon, £930, £925 (x4) Archbank, £905 (x2) High Threave
British Blue to £110 Kirkbride
Simmental to £1095 (x2) Kirkbride
Per Kilo
Bullocks
Charolais to 287.5p Mid Bishopton, 265.4p Cormaddie
Simmental to 265.4p Cormaddie, 257.8p Backburn
Limousin to 276.2p Mid Bishopton, 269p High Threave
Blonde to 267.5p Foregirth
British Blue to 244.4p Sunnyhill
Angus to 228.8p Kirkbride
Heifers
Limousin to 252p Mid Bishopton, 246p High Threave
British Blue to 231p Sunnyhill
Charolais to 226.4p Woodcroft