Dumfries Store & Breeding Cattle Sale Report
C & D Auction Marts Ltd held their Annual Show & Sale of Suckled Calves along with the Sale of Store Cattle in Dumfries on Monday 19th October 2015.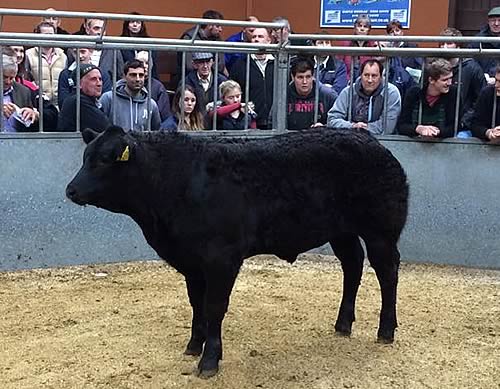 The show was in the capable hands of William Purdon, Strathaven House who made the following awards.
Best Calf – G Bell, Haas Side
Best Pen – N & L Shuttleworth, Drumburn
Today's Sale was Kindly sponsored by Soltyre Ltd
507 Forward
Suckled Calves – A fantastic show of top quality calves was presented to a full ringside of buyers, Vendors were delighted with their returns.
Leading the days trade at £1320 (371.8ppk) was an outstanding Limousin x Bullock (March Born) from G Bell, Haas Side.
Next Best at £1300 (361.1ppk) was a Charolais x Bullock (Late March) from Glencrosh Farming Co, Moniaive.
Haas Side then sold March born Calves at £1060, £1020, £1000.
Blonde x Heifer (March) Calves from Maryfield, New Abbey to £1020.
Simmental x Bullock (March) Calves from Maryfield, New Abbey to £990
British Blue Heifer Calves (April Born) to £1000 Drumburn, New Abbey
Other Principal Prices – Suckled Calves
Bullocks
(March Born) - £100 Mains of Collin, £950 Sunnyhill, £900 (x3) Mosshead, £990, £980 Haas Side
(April Born) - £810 Lantonside, £990, £870 Drumburn, £855 Dollard
Heifers
(March Born) - £910, £900 Sunnyhill
(April Born) - £1000, £880 Drumburn, £840 Mains of Collin, £770 Glencrosh, £770 Dollard
Per Kilo Calves
Bullocks
Limousin to 371.8p, 321.3p, 309.4p, 303p, 298.6p, 291.4p Haas Side, 294.5p Lantonside, 300p, 260p Buittle Mains, 264.6p Mosshead, 263.9p Sunnyhill, 250p Mains of Collin
Charolais to 361.1p Glencrosh
British Blue to 335.6p, 266.7p Drumburn, 264.5p Sunnyhill
Simmental to 271.2p Maryfield, 269.4p Buittle Mains
Heifers
British Blue to 392.2p, 320p, 294.7p Drumburn
Limousin to 323.1p Mains of Collin, 285.7p, 275.8p Sunnyhill
Blonde to 313.8p Maryfield
Charolais to 248.4p Dollard, 246.4p Upper Rigg
Bulls
Charolais to 292.3p, 270.6p, 259.5p Upper Rigg
Store Cattle – Trade steadier especially for forward stores.
Bullocks
Angus to £1180, £1020, £980 Auchenage, £1170 Raeburnhead, £1050 High Auchneel, £1020 Terregles Cott, £1020 Ballaggan, £1000 Netherhall, £1000 Borgue House, £990 Keyla Park, £950 No2 Tregallon, £910 Boreland of Southwick
Limousin to £1155 No6 Howes, £1115 Kirkbride, £1100 Keyla Park, £1065, £1000 High Auchneel, £1055 Kirkbride, £1050 Cocklicks, £1020 Ballaggan, £1000 Netherhall, £970 Backburn, £965 Backburn
Charolais to £1075 (x2) Netherhall, £980 Terregles Cott, £940 Netherhall, £925 Hayfield
Simmental to £1020 Clarencefield, £990 Palaceknowe
Hereford to £1020 Backburn, £985 Ballaggan
British Blue to £1115, £1055 Kirkbride, £1035 Ballaggan, £995 No2 Howes, £975 Harwood on Teviot
Saler to £1000 (x2), £995 Terregles Cott
Shorthorn to £910 Borgue House
Montbelliard to £910 Mosside
Heifers
Charolais to £1070 High Auchneel, £1050, £1000 Foregirth, £995 Netherhall, £910 Mosside
British Blue to £1065 East Gallaberry, £1015, £975 High Auchneel, £940 Harwood on Teviot, £930 Backburn
Hereford to £1035 Backburn
Limousin to £985 Holmes, £965 Netherhall, £945 Terregles Cott, £910 Cocklicks, £880 Netherhall
Angus to £950 (x2) Auchenage, £920 Braehead, £905 Lochmailing, £900 Keyla Park
Simmental to £900 High Auchneel, £890 Hayfield
Shorthorn to £810 Borgue House
Bulls
Angus to £1005 Westhills