Dumfries Store & Breeding Cattle Sale Report
C & D Auction Marts Ltd held their fortnightly sale of Store Cattle in Dumfries which included the Inaugral Show & Sale of overwintered cattle on behalf of Dumfries & Galloway Young Farmers on Monday 4th April 2016.
On Sunday Mr James Nisbet, Sorn Mains was given the judges task of placing the Young Farmers 40 Haltered cattle which were shown in full bloom and a credit to the regions young showmen.
A huge attendance watched him find his champion from Miss Hannah Sloan, Rigghead with 'Lord of the Rings' a Limousin x Bullock purchased from Haas Grove, Lockerbie at the October Calf Sale it later sold at £1260 to Mr Charles Anderson.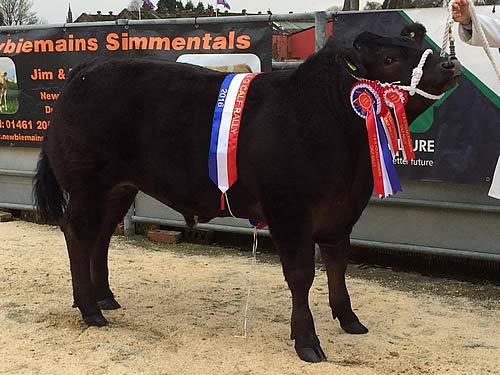 The Reserve Champion also from Miss Hannah Sloan with 'Look so Cheeky' a British Blue Bullock bred at Drumburn, New Abbey which sold at £1480 to local showman Mr W Boyd.
Prize List
Class 1 – Limousion (Male)
(Split Class)
1st Mr C Dodd 'Gee Wizz'
2nd Mr C Goldie 'Jackass'
3rd Miss C Mair 'Ted
Class 1 – Limousion (Male)
(Split Class)
1st Miss H Sloan 'Lord of the Rings'
2nd Mr E Paul 'Avicii
3rd Mr J Austin 'Black Magic
Class 2 – Limousin (Female)
1st – Mr A Jackson 'Gold Digga'
2nd – A Ewing, Dumbretton 'Ginger Spice'
3rd – Miss K Austin 'Jaegar Bomb'
Class 3 – BBX (Male)
1st – Miss H Sloan 'Look so Cheeky'
2nd – Mr D Watson 'Buzz'
3rd – Miss C Mair 'Fred'
Class 4 – BBX (Female)
1st – Mr B Radley 'Scally Wag'
2nd – Mr A Jackson 'Cover Girk'
3rd – Mr C Goldie 'Panda'
Class 5 – Any Other Breed (Male)
1st – Mr A Jackson 'Jammy Dodger'
Class 6 – Any other Breed (Female)
1st – Mr F Wallace 'Galaxy'
2nd – Mr W Hiddleston 'Po'
The competition for most weight gain over the winter was won by Mr Robert Ramsay, Dunbae with his Limousin Bullock which gained 236Kg.
2nd equal Miss Hannah Sloan, Limousin Bullock 227Kg
Mr Ali Jackson, Charolais Bullock 227Kg
3rd – Mr Colin Ferguson, Charolais Heifer 215Kg
The Calves were all purchased at suckled calf sales at Dumfries in October & November.
210 Store Cattle forward – A plain offering of mainly dairy bred cattle were presented to a full ringside of buyers. Trade reflected the current finished beef prices.
100 Bullocks ave 204.6p to 299p and £1480
45 Holstein Bullocks ave 128.3p to 144.8p and £630
55 Heifers ave 195p to 291.5p and £1200
Bullocks Per Head
British Blue to £1480 Rigghead, £1130 Stenries, £1060 Meikleholm, £1050 Park, £1000 Nether Dargavel, £980 High Mark, £980 Park, £970 Panlands, £950 Nether Dargavel, £920 Brownfield
Charolais to £1280, Maulscastle, £1085 Netherfield, £1060, £1000 Hillhead
Limousin to £1260 Rigghead, £1160 Tundergarth, £1130 Greigsland, £1110 Nether Dargavel, £1110 Woodcroft, £1105 East Gallaberry, £1100 Millhill, £1090 Woodcroft, £1090 Nether Dargavel, £1090 Dunmbae, £1060 Grennan, £1060 Meikleholm, £1060 East Lanegate, £1060 Skipmyre, £1030 Skipmyre, £1050 Millhill, £1050 East Lanegate, £1040 Balgrennan, £1030 Woodcroft, £1010 High Mark, £1000 Hillhead, £965 Upper Moor
Angus to £1140, £1090 No 6 Howes, £1025 Dunbae, £1000 East Gallaberry, £975 Panlands, £900 Ryemuir
Simmental to £1010 Park, £885 Shawhill
Blonde to £1010 Grennan
Hereford to £1000, £940 Upper Moor
Montbelliard to £950 Gimmenbie
British Friesain to £630 Fardingjames
Holstein Friesian to £620 Shenrick
Heifers Per Head
Limousin to £1200 Dumbretton, £1140 Maulscastle, £1020 Skipmyre, £1000 Drumflower, £980 Upper Portrack, £950 Dunbae, £940 Greigsland, £900 Newmains, £895 Upper Moor, £850 Backburn
British Blue to £1160 Maulscastle, £1160 Loaningfoot, £1120 Skipmyre, £900 Backburn, £885 Upper Moor
Simmental to £1120 Mains of Collin, £900 Upper Moor
Charolais to £1030 Grennan