Longtown Primestock Sale Report
The Cumberland & Dumfriesshire Farmers Mart P.L.C. had forward 22 prime cattle, 6 young bulls, 20 over thirty month cattle, 4,546 prime hoggs and 4,582 cast ewes & rams at their weekly sale at Longtown on Thursday 6th March 2014.
Prime cattle met a sharper trade with buyers keener for cattle and more numbers needed. Top price to 228.5p for a Limousin bullock shown by D.J. Garthwaite & Son, Wyseby Hill Cottage. Limousin heifers sold to 222.5p from W. & W. Faulder, Houghton House.
Principal Prices (per kilo)
Bullocks
Limousin 228.5p, 217.5p Wyseby Hill Cottage, 196.5p Newby Farm.
Charolais 208.5p Plumpe.
Heifers
Limousin 222.5p, 219.5p Houghton House, 205.5p, 201.5p, 192.5p Plumpe.
Charolais 221.5p Sceughdyke, 212.5p Plumpe, 197.5p Sceughdyke.
Principal Prices (per head)
Bullocks
Charolais £1,386 Plumpe.
Heifers
Limousin £1,349, £1,323 Houghton House, £1,209 Plumpe.
Charolais £1,295 Sceughdyke, £1,275 Plumpe, £1,264 Sceughdyke.
All dairy bulls on offer sold to a firm trade. Top price of 160.5p from Mr W.A. Clark, Whins Farm.
Principal Prices (per kilo).
Black & White 160.5p, 159.5p Whins, 158.5p Becton Hall, 157.5p Netherton.
Principal Prices (per head)
Black & White £1,035 Whins, £998 Becton Hall, £917 Whins, £823 Becton Hall.
A shortage of cast cows met a similar trade peaking at 145.5p for a Limousin cow from J.F. & S.J. MacDonald, Ladyhousesteads.
Principal Prices (per kilo)
Limousin 145.5p Ladyhousesteads, 138.5p Sceughdyke, 113.5p Ladyhousesteads.
Simmental 123.5p Sceughdyke.
Charolais 117.5p Burnside.
Principal Prices (per head)
Simmental £1,055 Sceughdyke.
Limousin £969 Sceughdyke, £894 Ladyhousesteads.
Another fine show of 4,546 prime hoggs (1,215 lightweights) all classes of hoggs sharper on the week, especially best export and heavyweight hoggs. Many more could be sold to advantage.
The overall sale average was 201.6p per kilo (SQQ 203.8p per kilo). Top was £118 per head for Texels from Wood Farm with a top per kilo of 288p for Texel from West Meiklethwaite.
Also held today was the Annual Prize Show & Sale of Blackface prime hoggets. The show was ably judged by Mr Andrew Dawson who awarded the Championship to regular consignor J. McTurk, Barlaes, which scaled at 49 kilos and realised £94 to Dunbia Ltd.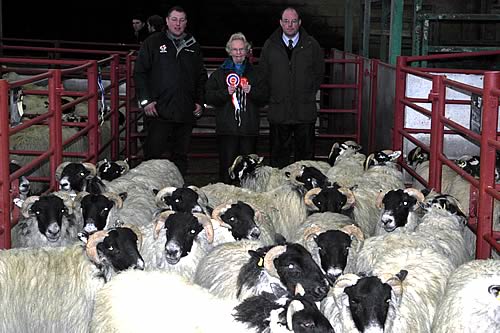 Champion pen of Blackfaced Hoggets, L to R Ross Pattinson of Agri-Lloyd, Margaret Fergusson of Barlaes and judge Andrew Dawson
The show was kindly sponsored by Agri-Lloyd.
Prize winners & prices:-
Up to 38 kilos –
1st prize – Messrs McArthur, Arnicle, 35 kilos, £70 to Dunbia.
2nd prize - Messrs McArthur, Arnicle, 33 kilos, £66 to Pickstock.
39-44 kilos –
1st prize – J. McTurk, Barlaes, 44 kilos, £92 to Dunbia.
2nd prize – W. Tod, Glenshanna, 43 kilos, £91 to A. Dawson.
45 kilos and over –
1st prize – J. McTurk, Barlaes, 49 kilos, £94 to Dunbia.
2nd prize – P. Hunter, Stoneraise Place, 48 kilos, £92 to Dunbia.
Principal Prices (per head)
Texel £118, £117 Wood Farm, £115, £114 West Meiklethwaite, £114 Stubsgill and Hollands, £112.50 Wood Farm, £112 Hollands and West Meiklethwaite, £111 Kirkbarrow Hall, £110 Willimoteswick, Kilnford Croft, Dunjop, Nether Albie and Kirkbarrow Hall.
Suffolk £112 Marygate, £107 Cowcorse, £104 Demense, £103 Nether Stenries, £101 Bidlake, £100 Branteth, Sceughdyke and Oswie, £98 Kilnford Croft and Nether Stenries, £97 Whitstonehill.
North Country Cheviot £105 Whins, £100 Halket Leaths, £99.50 Springwells, £99 Whins and Wester Dunnet, £94 Springwells, £92 Carlenrigg and Longoe.
Hill Cheviot £100 Cowcorse £98 Potholm, £96 Wood Farm and Unthank, £95.50 Redwood House, £95 Halket Leathes, £94.50 Kilnford Croft, £94 Potholm.
Charollais £100 Becton Hall, £99.50 Bidlake, £99 Leaona Villa, £93 Smalmtown, £91 Cambwell.
Greyface £97 Barlaes, £92 Kirkhouse, £90 Brampton Fell and Cranberry Brow, £89 Kirkhouse, £86.50 Sceughdyke, £85 Justicetown, £84 Oswie.
Zwartbles £96 High House, £72 Milltown.
Blackface £95 Yett Farm, £94 Barlaes, £93.50 Redwood House, £92 Barlaes, £91.50 Smalmstown, £91 Glenshanna, £90 Longburgh Fauld, £87 Yett and Black Mountain, £85 Larg Farming, Longburgh Fauld, Stoneraise Place and Uppercleuch.
Leicester £89 Delamford, £78 Arnicle, £70 Kildalloig.
Cheviot Mule £87 Potholm.
Beltex £80 Lurgan.
Swaledale £77.50, £72, £70, £68 High Dunashery.
Principle Prices (per kilo)
Texel 288p, 280p, 271p West Meiklethwaite, 269p Stubsgill, 268p Willimoteswick and Hexpath, 267p Hollands and Nether Albie, 265p Hollands, 261p Oakwood, 260p, 256p, 255p Nether Albie, 250p West Meiklethwaite, Dunjop and Maidencots.
Beltex 267p Lurgan.
Hill Cheviot 233p Whitefield, 226p Wood Farm and Temon, 225p Kilnford Croft, 222p Milnholm and Redwood House, 221p Halket Leathes, 220p Glendearg and Kilnford Croft, 219p Redwood House.
North Country Cheviot 223p, 220p Whins, 214p Longoe Farm, 213p Halket Leathes, 200p Balgray Hill, 198p Wester Dunnet.
Suffolk 222p Westend, 218p Nether Stenries, 214p Becton Hall, 213p Nether Stenries, 212p South Lambhill and Sceughdyke, 208p, 207p Culquhasen, 206p Bidlake, 204p Westend.
Charollais 216p Smalmstown, 211.6p Cambwell, 203p Bidlake, 200p High House.
Blackface 215p, 213p Stoneraise Place, 213p Smalmstown and Redwood House, 211.6p Glenshanna, 210p Faulding Cleugh and Smalmstown, 209p Barlaes, 208p Glenshanna, 207p Becks.
Greyface 206p Sceughdyke, 195p, 193p, 192p Kirkhouse, 192p Culquhasen, 191p Oswie, 190p Calliburn, 189p Stubsgill and Justicetown, 188p East Skeroblin, 187p Belzies and South Corrielaw.
Swaledale 194p, 189p, 184p High Dunashery.
Cheviot Mule 189p Potholm.
Herdwick 188p Golden Lane, 168p Cumcrook.
Zwartble 176p Milltown.
Leicester 175p Delamford, 173p Cranberry Brow, 152p Killadoig.
A smaller show of 4,582 cast ewes and rams were forward to a fuller ring of purchasers with some fresh faces present resulting in all classes of ewes being easily sold and £4 to £5 sharper on the week.
Heavy ewes to £134 for Texels from Marygate, £128 Riverhill, £126 Bensons Fell; Bleu d'Main £122, £114 Wick; Charollais £120, £98 Riverhill; Suffolk £118 Marygate, £105 Keith, £100 Hullerbank, Baryerrock Farm, Broomlands and Thuster Mains; Beltex £108, £92 Maidencots; Half Bred £100, £90 Keith; Leicester £90 High Edges Green, £89, £85 Old Police House; Cheviot Mule £86 Broomlands, £76 Balgray Hill,£73 Allfornaught; Zwartbles £79 Croft Head Terrace, £64 Hillhead, £62 Glasson; Dorset £78 Dunnabie, £76 Golden Lane; Greyface £78 Haas Grove, £76 Thuster Mains, £74 Pearsby Hall and Skinnet; Romney Marsh £62 Carterhaugh; Wiltshire £62 Golden Lane.
Light ewes to £74 for Cheviots from Byers Farm, £70 Swiney Hill, £69 Bush of Ewes and Woodslee; Lonk £70, £64 Bush of Ewes; Blackface £68 Edge, £64 Uppercleuch, £62 Oswie; Lleyn £65, £60 Marygate; Kendal Rough £58 Chapel Farm; Swaledale £52 Low Hallburn, £51 Belzies, £48 Chapel Farm.
Rams to £140 for Texels from Patties Hill, £126 Seathill, £118 Haas Grove; Leicester £122 D'Mainholm, £120 Potholm, £80 Springwells; Beltex £120 Wood Farm, £96 Lough Hill; Suffolk £120 Plantation Cottage, £106 High Wreay, £100 Nethertofts; Charollais £118 Wick, £107 Springwells; Hill Cheviot £96 Bloch, £90 Whitstonehill, £88 Potholm; Lleyn £89 Marygate; Zwartbles £86 Glasson, £70 Easter Dawyck; Blackface £77 Henderland, £64 Earslhaugh, £60 Henderland; Swaledale £58 Greenrigg.
Averages:
Steers
Light to 228.5p (228.5p)
Medium to 217.5p (197.3p)
Heavy to 208.5p (178.6p)
Heifers
Medium to 221.5p (198.3p)
Heavy to 222.5p (210.5p)
Young bulls 160.5p (154.4p)
Hoggs
Light to 267.0p (192.7p)
Standard to 269.0p (200.8p)
Medium to 288.0p (210.4p)
Heavy to 239.0p (197.0p)
Ewes
Light to £74.00 (£51.37)
Heavy to £134.00 (£77.26)
Cast Rams £140.00 (£83.28)