Longtown Primestock Sale Report
C&D Auction Marts Limited had forward 41 cattle, 3,067 prime lambs and 5,347 cast ewes & rams at their weekly sale at Longtown on Thursday 3rd August 2017.
The company held its weekly sale of primestock where an entry of 41 cattle, comprising of 8 prime cattle and 33 OTM's forward. An increased company of buyers were present and all types met good demand with small, keeping cows the trade of the day.
OTM's: Nunscleugh cows averaged 152p
Increased numbers were easily sold, with the sale topping at 156p for a Blue x cow from Harry & Geoff Gass, who sold others to 154p. Simmentals realised 155p from Messrs Anderson. Limousin's from Peter Lee sold to 151p, who sold Charolais' to 144p. Native bred cows sold to 140p from Messrs Forster for Shorthorn x, with hill bred Angus to 129p from Tanlawhill. Dairy cows topped at 117p for a heavyweight from Tom Irving, which grossed £1,006.20, on a Dutch passport. Top price per head in the cows was £1,108.80 for a Continental from Morley Hills. Galloway bulls sold to 117p from the Bloch. A short entry of clean cattle met a good solid trade with grass Limousin heifers topping at 210p from the Grice family. Well finished Galloway steers sold to 182p from Mr D W Leach, grossing £1,183. Grass fed Herefords from Hewson Bros, Jerriestown sold to 184p for heavyweight heifers with steers to £1,228.20.
A larger show of 3,067 prime lambs were forward to an increased ring of buyers. Following the national trend, well fleshed lambs continued to sell at recent rates, with many lambs coming forward lacking enough flesh and just realising store trade. Lightweight fleshed lambs would short of buyer's requirements and were dearer on the week, heavyweight lambs still in big demand and regularly realising over £90. Sale average 196.8ppk (SQQ 196.8ppk).
Sale topped at 251p for great Texel lambs from EJC Dean, Kirk House, Brampton. Top price per head of £115 was also achieved for Texel lambs from K Hall, Baggarah, Low Row.
PRINCIPAL PRICES (PER KILO)
Texel 251p Kirk House, 243p Viewley, 240p Baggarah, 237p Kirk House, 235p Baggarah.
Beltex 220p Glencartholm.
Charollais 216p Baggarah, 205p Beckfoot, 202p Porterstown, 200p Sceugh Dyke & Bayles.
Cheviot Mule 211p Bayles, 199p Skelfhill, 198p Westerhouses, 197p Balgray Hill, 195p North House.
Blackface 205p, 203p Redburn View, 200p, 196p Balgray Hill.
Cheviot 204p Johnstonebank.
Suffolk 203p Tarrasfoot, 202p Guardsmill, 201p Littlegill & Fenton, 200p Priesthaugh, Sowerby Wood, Upper Mains, Fenton & Chapel.
Cross 203p Maidencots, 202p Eastside, 196p Baggarah, 191p Chapel.
Hampshire 203p, 198p Barnglies.
Berrichon 192p Sceugh Dyke.
PRINCIPAL PRICE (PER HEAD)
Texel £115 Baggarah, £109 Newtown, £108.50 Kirkton, £108 Baggarah & Beckfoot, £105.50 Kirkton, £105 Kellah, £104 Harene, £103.50 Baggarah, £101.50 Lynegar.
Suffolk £106 Swaites, £104 The Land, £103 Sceugh Dyke, £99 Guardsmill, £97.50 Tarrasfoot, £96 Guardsmill, £92.50 Littlegill.
Charollais £106 Sceugh Dyke, £99.50 Baggarah, £88 Beckfoot, £80 Holebeck.
Hampshire £101.50 Barnglies.
Cheviot Mule £100, £89 Barnglies, £89 Hownam Grange.
Cross £96 Baggarah, £84 Balgray Hill & Low Chesterhope, £82 Chapel, £80 Kellah.
Beltex £90 Glencartholm.
Berrichon £85 Sceugh Dyke.
Blackface £82 Redburn View.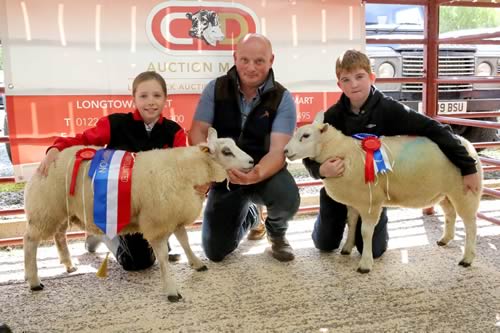 Also included today was the Annual Young Handlers Show & Sale, kindly sponsored by Farmers Guardian, where over 50 children were present with their lambs. The show was ably judged by Mr Andrew Graham, The Wreay, Wigton, who after some deliberation in the difficult classes awarded the championship to Fern Simpson, Waltonwoodhead, Brampton for her outstanding Texel lamb which scaled 42kg and realised £110 to the judge. In reserve was Matthew Sisson, Fenton, How Mill with his 43kg Texel lamb realising £112 also to the judge. A great show of lambs were forward and sold accordingly, which can be seen in the following prices:
Young Handlers Prize List:
Class 1 – Age up to 7 years:
1st – Charlie Vevers, 43kg £90 to Farmers Fresh
2nd – Matthew Ritson, 42kg £114 to The Judge, A Graham
3rd - Franchescha Vevers, 42kg £91 to M Lomax
4th – Jonathan Telford, 40kg £88 to M Lomax
5th – Lilly Milburn, 36kg £99 to A Graham
6th – Sophie Bell, 39kg £82 to M Lomax
7th – Harry Vevers, 38kg £80 to M Lomax
8th – Grace Irving, 46kg £93 to J Tucker
9th – Hannah Irving, 39kg £80 to M Lomax
10th – Leon Hutton, 39kg £80 to Dunbia
Class 2 – Age 8 to 11 years:
1st & Champion – Fern Simpson, 42kg £110 to A Graham
2nd – Maisie Milburn, 37kg £105 to Farmers Fresh
3rd – Alex Byers, 50kg £108 to M Lomax
4th – Charlie Armstrong
5th – Lewis Clements, 44kg £92 to R Stavely
6th – Joseph Hutton, 42kg £84 to J Tucker
7th – Andrew Kyle, 39kg £82 to M Lomax
8th – Amy Graham, 35kg £80 to M Lomax
9th – Kris Byers, 37kg £78 to M Lomax
10th – Georgia Kendall, 40kg £82 to M Lomax
Class 3 – Age 12 to 16 years:
1st & Reserve – Matthew Sisson, 43kg £112 to A Graham
2nd – Ewan Simpson, 41kg £110 to M Lomax
3rd – John Calvert, 43kg £95 to M Lomax
4th – Tom Hall, 48kg £115 to Farmers Fresh
5th – Louise Brough, 42kg £100 to M Lomax
6th – Amy Milburn, 34kg £95 to M Lomax
7th – Alexandra Bouch, 39kg £84 to J Tucker
8th – William Kyle, 43kg £89 to J Tucker
9th – Liam Dirom, 40kg £82 to Dunbia
10th – Alastair Dodd, 39kg £88 to M Lomax
Young Farmers Prize List:
Best Single Lamb:
1st – Kayleigh Jardine
2nd – Richard Priestley
3rd – Paul Gardner
Best Dressed Lamb:
1st – Richard Priestley
2nd – Kerry Scott
3rd – Joanna Morris
Best Pair of Lambs:
1st – Paul Gardner
2nd – Kayleigh Jardine
3rd – Rory Beard
Overall Champion – Richard Priestley, 38kg £120 (316ppk) to Farmers Fresh
Reserve Champion – Kayleigh Jardine, 43kg £98 (228ppk) to M Lomax.
Another large show of 5,347 cast ewes and rams was presented to a full compliment of buyer's. Heavy ewes continue to sell at recent high rates, with many more required for the Muslim festival at the end of this month. As with all other marts, many more hill ewes forward with smaller, leaner ewes proving harder to cash. Rams continue to sell at recent rates. Sale topped at £160 for Texel ewes from A R Bell, Kirkton, Hawick, with rams to £154 for Texels from Messrs Gass, Nunscleugh. Blackface ewes to £83 from Carterton Cottage.
HEAVY EWES
Texel £160 Kirkton, £149 Eastside, £148 Kirkton & Roxburgh Mill, £146 Dinnians & Commonside, £144 Strawfrank & Beckfoot, £140 Balgray Hill, Lynegar & Marygate, £139 Marygate, £134 Woodhead, £132 Sunnycroft, Caverslea & Beckfoot, £130 Heatherglen, Chaseside & Harene.
Suffolk £125 Eastside, £120 Beckfot, £117 Chaseside & Gnatham Barton, £116 Nettling Flatt, £114 Beckfoot & Rumbleton Rigg, £112 Hassendeanburn & Eastside, £111 Golden Lane, £108, £107 Sowerby Wood, £105 Beckfoot, £103 Chaseside.
Charollais £124, £100 Beckfoot, £100 Glebelands.
Beltex £124 Hartside.
North Country Cheviot £109 Nettling Flatt, £100 Eastside, £89 Whitslaade, £88 earlside, £80 Balgray Hill.
Continental £109 Strawfrank.
Blue Faced Leicester £105 Kilnstown, £94 Stubbsgill, £92 High Crossgill.
Cheviot Mule £98 Rumbleton Rigg, £97 Philiphaugh Estate, £95 Sunnycroft, £94 Upper Hundalee.
Half-bred £90 Guardsmill.
Cross £90 Eastside, £89 Dinnans, High Glen Triplock & Beckhall, £88 Eastside & Uppercleugh, £87 Cleughbrae, £86 Oatnell, £85 West End & Sunnycroft, £84 Sowerby Wood & Hallees, £82 Beckhall & Lowergate.
LIGHT EWES
Blackface £83 Carterton Cottage, £72 Parkhead, £71 Balgray Hill & Longburgh Fauld, £65 Winterhopeburn, £64 Meggethead, £62 Lanehead, £61 Hartside.
Goat £83, £69 Orthwaite Hall.
Lleyn £76 Over Langshaw, £70 Eastside.
Cheviot £71 Solwaybank, £65 Parkhill, £60 Milnholm, £56 Carterton, £50 Commonside.
Easycare £66 Hazelbank.
Swaledale £62 Old Rectory, £58 High Crossgill, £56 Stubbsgill, £55 Thirwell Castle, £53 Midtodhills, £50 Kilnstown.
Kerry Hill £60 Muirhead.
RAMS
Texel £154 Nunscleugh, £140 Chaseside, Westhills & Dinnans, £137 Hermitage, £134 Uppercleuch, £130 Marygate, £128 Golden Lane & Stubbsgill.
Suffolk £139 Golden Lane, £138 Abbey Row, £130 Satchells, £120 Whitegates, £118 Threepwood, £114 Old Hall.
Hampshire £114 North Park.
Blue Faced Leicester £111 Satchells, £106 Sornfallow.
Beltex £110 Stubbsgill.
Cheviot £108 Beckfoot.
Blackface £89 Redburn View, £88 Troloss, £80 Hartside.
North Country Cheviot £84 Satchells.
Averages:
Steers
Light to -------p (------p)
Medium to 182.0p (182.0p)
Heavy to 178.0p (178.0p)
Heifers
Light to -------p (-------p)
Medium to 210.0p (205.1p)
Heavy to 184.0p (174.0p
Lambs
Light to 213.0p (195.8p)
Standard to 316.0p (198.7p)
Medium to 277.0p (195.9p)
Heavy to 240.0p (199.7p)
Overweight 202.0p (165.3p)
Ewes
Light to £83.00 (£39.67)
Heavy to £160.00 (£81.06)
Rams £154.00 (£94.39)