Longtown Beef Shorthorns to 4,700gns
The annual Summer Bank Holiday Sale of pedigree Beef Shorthorn Females at Longtown attracted potential purchasers from throughout the UK and, again, full use was made of the new ring which has been erected at the mart to aid social-distancing.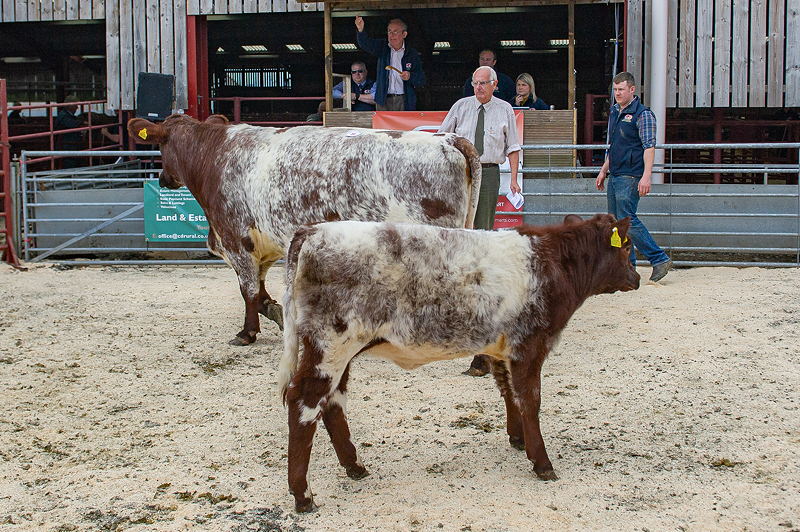 Coldrochie Catriona Rosebud and calf sold for 4,700gns
A particular attraction was the dispersal of a select group of cows with calves at foot from the Hyndford herd of Ian Tennant from Oldhill Farm, Lanark.  Topping the dispersal and the sale was the 2017 born cow Coldrochie Catriona Rosebud, a Knockenjig Foremost daughter with a heifer calf at foot.  She sold for 4,700gns. to Blackbrook Shorthorns, West Yorkshire.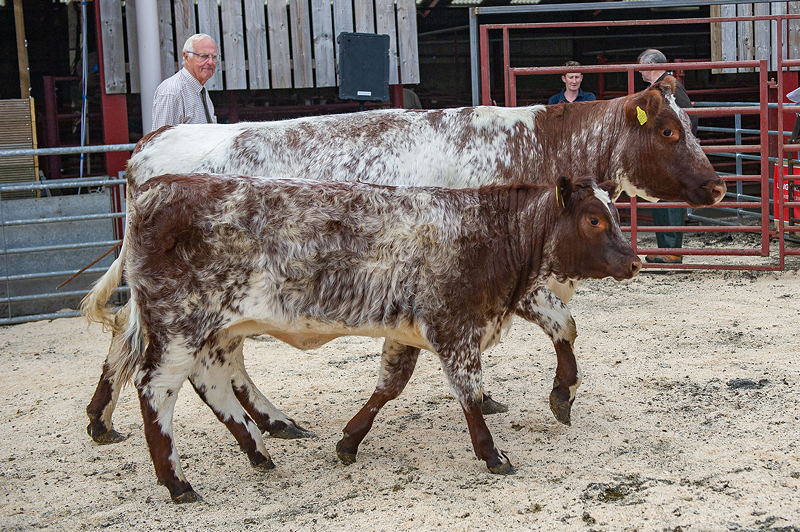 Mountbenger Heather with a heifer calf sold for 3,100gns
Another Hyndford cow, Mountbenger Heather, again with a heifer calf, took 3,100gns. from Tom McMillan, Eskechraggan, Bute and the same price, 3,100gns, was given by D.I.L. and J.E.  Evans, Llwynhywal, Llanilar for H.W. Gretta Fee and her heifer calf.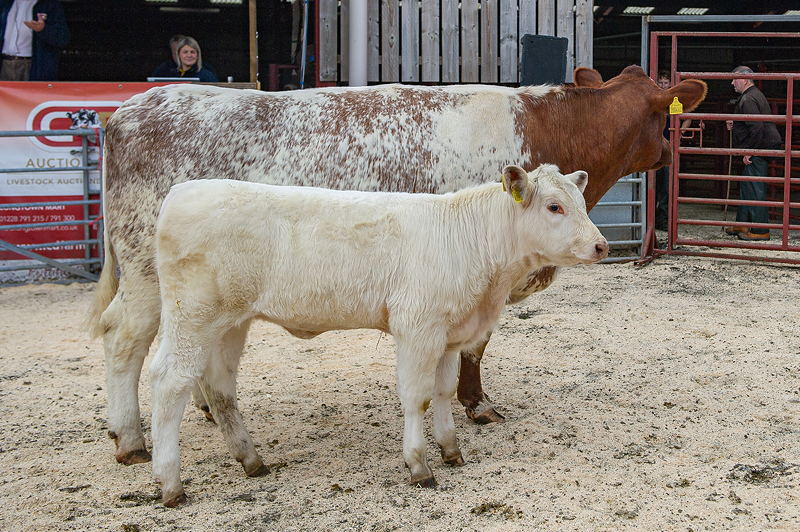 HW Gretta Fee with a heifer calf sold for 3,100gns
Messrs Evans also took two other Hyndford cows with calves, Coldrochie Irania Rainbow at 3,000gns and HW Eva Broadhooks for 2,700gns.  Going to Northern Ireland at 2,500gns was another Coldrochie bred cow with a bull calf purchased by Messrs Reid, Kil, County Armagh. The dispersal averaged £2,788.
Cows and calves from other consignors also sold well with D. & T. Bradley Farmer's Meonside herd from Wester Parkgate, Dumfries taking 2,900gns. for Meonside Honeysuckle with heifer calf, going to D & M Wyllie, The Gill, Annan and the annual draft from Willis Graham's Fieldhouse herd from near Ripon was, as usual, well received and sold to 1,600gns.
A nice entry of in-calf heifers made to 2,700gns. for Headlind Holly Molly from T. Allan Jackson, Kirkfield, Lanark, purchased by D. Lee, Bigrigg, West Cumbria and Fraser Hugill's consignment from Helmsley topped at 2,000gns twice and 1,900gns.  Charles Lowther's in-calf heifers made to 1,800gns with Andrew Thompson's Pikelowe herd selling heifers to 1,700gns.
Maiden heifers went to 2,100gns for Chapelton Nettle from Messrs James Biggar, Grange, Castle Douglas and 1,500gns for Wells Graduate from John Wood, Brewsterwells, Fife.
Averages: 26 cows with calves/in-calf  - £2,006;  14 in-calf heifers - £1,711; 10 maiden heifers - £1,089.