"Longtown Ladies" Sale of In-Lamb Females

On Tuesday 13th January 2015, The Cumberland & Dumfriesshire Farmers Mart PLC, Longtown held its annual "Longtown Ladies" sale of 100 in lamb females, comprising 50 MV Accredited Texels, 30 other Continental females and 20 Bluefaced Leicester females.
This sale was the first evening sale to take place within Longtown Mart, with a 6pm start and was a roaring success throughout. With the sale ring packed to the rafters, a buoyant trade throughout saw many prospective customers going home empty handed.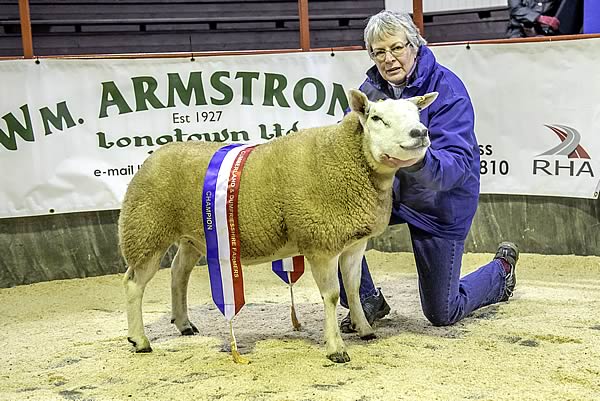 Champion Texel and top price sold for £1300 - from Mrs E Dunlop, Searigg Flock - sire Stonebridge Tiger and inlamb to Clantibuies Vintage
The MV Accredited Texels had a show of in lamb gimmers which was kindly sponsored by Wm Armstrong, Longtown and ably judged by Mr David Gray, Tima Flock, Lindean, Selkirk. There was also a trophy for the champion gimmer which was donated and presented by Harry & Irene Woodmass.
A fine class of 10 gimmers were forward with the champion eventually being awarded to Mrs Dunlop, Searigg, Carrutherstown, realising £1,300. This gimmer is by Stonebridge Tiger and is out of a Corbelly Mint daughter. She sold in lamb carrying a single to Clantibuies Vintage and now takes her place amongst Archie Hamilton's Smyllum flock.
Next at £1,050 was the first from Messrs Renwick, Craig Douglas, Yarrow. Standing 2nd in the show this gimmer by Knock Treasure out of a Knock Ottis daughter sold carrying a single to Waen Undercover and was purchased by Messrs Fleming, Shoestanes, Heriot.
Also at £1,050 was a 3 crop ewe from Messrs Barrow, Greenwood, Wigton, by Swaites O'Sullivan out of a Cambwell Linchpin daughter, she sold carrying triplets to Eastfield Union and finds a new home with M. Radford, East Under Hurth, Forest in Teasdale.
Mr Renwick then received £900 for a gimmer by Ettrick Tam O'Shanter and out dam by Allanfauld Pharaoh, also carrying a single to Waen Undercover. She heads north to Mr Slater, Roadside, Orkney.
Archie Hamilton then recouped some of his outlay after his first from the Smyllum flock realised £800. This gimmer was by Crailloch Smirnoff out of a Drumpark President daughter. She sold carrying a pair to Craig Douglas Vanilla Ice and headed off to Messrs Lawson, Pasture House, Bolton Low Houses.
At £550 Mrs Dunlop, Searigg sold another by Stonebridge Tiger, which was twin to the champion gimmer. She also carried a single to Clantibuies Vintage and again heads to Orkney with Messrs Slater.
Two more followed closely at £500, firstly from Messrs Douglas, Yarrow, a gimmer by Glenside Showman 1 out of a Llyfni Robin daughter, sold carrying a single to Logie Durno T-rex and purchased by Thornbrough Farms, Corbridge, Northumberland.
The 2nd at £500 came from Messrs Darling, Birkwood, Lilliesleaf by Ettrick Top Notch and out of a daughter by Scrogtonhead Proclaimer, sold carrying twins to Douganhill Usain Bolt and sold to Messrs Collin, Intack Farm, Forest in Teasdale, Co. Durham.
Other principal prices:-
Shearlings
£480 Greenwood to Messrs Wightman, Coxhill, Maddisdon,
£450 (x2) Greenwood to Messrs Bewley, Southdene, Bonchester Bridge.
£450 Greenwood to Messrs Cunningham, West Hill, Mauchline.
£400 Birkwood to Messrs Pringle, Cavers Lea, Hawick.
£400 Sandilands to Messrs Fox, Windy Hill, Hethersgill.
£400 (x2) Harene to Messrs Brown, Kiln Cottage, Dalkeith.
Ewes
£320 (x2) Shepherds Cottage, £320 (x2), £300 Searigg.
Prize list:-
1st and Champion – Mrs E. Dunlop, Searigg (lot 19) sold at £1,300 to A. Hamilton, Smyllum.
2nd – S. Renwick, Craig Douglas (lot 60) sold at £1,050 to Messrs Fleming, Shoestanes.
3rd – Messrs Barrow, Greenwood (lot 26) sold at £450 to Messrs Bewley, Southdene.
4th – R. Darling, Birkwood (lot 63) sold at £500 to Messrs Collin, Intack.
Continental females sold to £520 for a Texel x Beltex from Messrs Beard, Dormansteads, selling to Messrs Collins, Intack. £400 (7/8 Texel) from Dormansteads to Messrs Oliver, East Farm and to Messrs Cunningham, West Hill. Charollais to £350 (x3) Upper Auchenlay to Messrs Oliver, East Farm, Great Whittington.
Also included was the annual sale of Bluefaced Leicester in lamb females and geld ewe hoggs.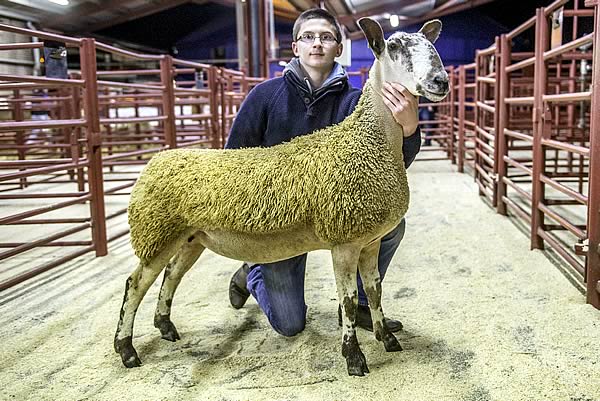 Top price Bluefaced Leicester sold for £1200 from J Wight and Sons Midlock - sired by a homebred tup and inlamb to Midlock Mustang
Leading the way here was the number one gimmer from Messrs J. Wight & Sons, Midlock, by the homebred Midlock 1538/D40, out of a ewe by the 408/N25 Nunscleugh, she sold carrying a single to Midlock Mustang and realised £1,200 to Messrs Marston, Millstone Moor.
The second Midlock gimmer, again by D40, this time out of a 2944/V3 Bull & Cave and realised £750, selling across the sea to Messrs McKenna, Northern Ireland.
Midlock breeding was in demand when their final gimmer, also a D40 out of a 1538/W25 Midlock Controversy mother sold carrying triplets to E1 Bull & Cave, this time fetching £650 she sold to Messrs Barclay, Mid Brocklock, Maybole.
Midlock ewe hoggs were also to the fore, realizing £450 for a Midlock 1538/G108 by 980/E1 Hewgill, again destined for Northern Ireland and another same way bred made £300 to Messrs Gardner, Holmside, Balmaclellan.
Also at £300 was the first ewe hogg from Messrs Nicholsons Bewcastle flock by the 408/D1 Nunscleugh out of 2555/Y3 Ashcleugh she sold to Messrs Linton & F. Azalia, Burnside, Abington.
Others £250, £220 Midlock, £180 Bewcastle and Trotton.