Longtown Store & Breeding Sheep Sale Report
ANNUAL BORDER EWE SALE
C & D Auction Marts Limited had forward a catalogue entry of 8,241 head, comprising 3,287 Blackface and Swaledale ewes, gimmers, ewe lambs and 4,954 Cheviot ewes, gimmers and ewe lambs at their Annual Border Ewe Sale at Longtown on Wednesday 3rd October 2018.
A good quality entry of both Hill and Northie Cheviots attracted a very large crowd of buyers from Cornwall to Aberdeen with a very big contingent from Wales. Trade opened out dear and remained so all day with averages up in excess of £20 on the year, all vendors were highly delighted and several buyers left empty handed.
North Cheviots topped at £180 and £165 for gimmers from Mr G E Edgar, Low Longlands, Lees Hill, with others to £170 Kinaldy, £150 Hownam Grange and £145 Preston Mains. Ewe lambs to £130 Hownam Grange, £120 North Synton and £110 East Murton. Ewes sold to £110, £95 Side Farm and £92 Chapel House, Seathwaite & Burn, £90 Marwhirn.
Hill Cheviots to £150 for gimmers from Mount Benger, £115 Stirkfield Farms, who also topped the ewe lambs at £125 and £90. Others to £88 Mount Benger and £88 Catslackburn.
Ewes sold to £105 and £95 Crossdykes, £98 Castle Crawford & Catslackburn, £92 Longburgh Fauld, £90 Stirkfield Farms, Skelfhill & Castle Crawford.
The Blackface section this year incorporated the prize show of North of England type blackface gimmers and draught ewes, expertly judged by Mr D Hope, Albierigg and Mr J Nicholson, Old Police House, whom awarded their prizes as follows:
North of England type Blackface gimmers:
1st – Wanwood Partners, Wanwood Hill
2nd – Wanwood Partners, Wanwood Hill
3rd – I & G Aitchison, The Side
North of England type Blackface ewes:
1st – W & PF Walton, Penpeugh
2nd – Haliburton Farms
3rd – Haliburton Farms
Blackface gimmers sold to a very busy ringside of potential purchasers ensuring all consignments were keenly bid for, topping at £125 for the 1st prize gimmers consigned by Wanwood Partners, Wanwood Hill. Blackface ewes sold to a very similar trade on the year, selling to £75 from Derwentdale Farms.
Blackface ewes (average £52.39) - £65, £60 Derwentdale Farms, £58 Sweetshawhead & Townhead.
Swaledale ewes (average £42.62) - £75, £65 Dumblar Rigg, £58, £50 Horsley Hill.
Blackface gimmers (average £82.54) - £125, £120 Wanwood Hill, £115 Horseholme, £112 Sewing Shields, £110 Penpeugh, £105 The Side, £102 Westhills, £100 Nilston Rigg, Toft House, Town Shields, Sewing Shields and Skelfhill.
Swaledale gimmers (average £74.05) - £100 Dumblar Rigg.
Blackface ewe lambs (average £49.47) - £100 Wanwood Hill, £85 High Staward, £78 Allensgreen, £72 Wanwood Hill, £70 High Staward.
Rams Sell to £3,000
The ram section of the Borders Ewe and Ram sale at Longtown saw the best entry ever of North Country Cheviot and Traditional Bluefaced Leicester tups.
A crowded ringside, with buyers from as far afield as Cornwall, saw an increased entry of North Country Cheviots meet an animated trade throughout with every sheep bar one sold.
The centre record was decisively broken by the £3,000 sale of a shearling from G. Davies & Partners, North Synton, Ashkirk. This outstanding son of Wandylaw Talent went to W & J Thomson of Hownam Grange, Roxburghshire.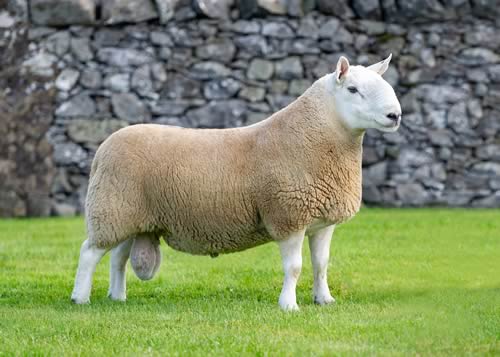 North Synton Ram - £3,000
An exceptional pre-sale show of Park-bred shearlings resulted in the championship going to an Allanshaws ram from J. Runciman & Sons. He sold to N. Gill of Stonethwaite, Borrowdale for £950. Allanshaws sold others to £900, bought by R R J Weir, Chapel House, Stonethwaite and £720 to Grain Farms, Hebdon Bridge. Nine Allanshaws rams averaged £644, up £200 on the year. North Synton averaged £855 for six.
2nd prize Park shearling was one from S. Turnbull's Jethart, Jedburgh flock and he made £800 to Holystone Estate, Sharperton. Three Park shearlings each made £680, these were from Messrs Matthewson, Soutra, C R Graham & Sons, Carruthers and Messrs Runciman, Allanshaws. The latter flock had another at £620 as did P W Hedley, Swinside Townfoot.
The top priced Hill-bred ram was a £550 two shear from W Dunlop, Commonside, Hawick which went to Newton & Charlton, Tarset.
101 Park Cheviot shearlings sold to average £364, up £30 on last year. The overall average for 120 Cheviot rams of all ages was £346, up £11.
The annual sale of Traditional Bluefaced Leicester rams for crossing with the Cheviot to breed the ever-popular Cheviot Mule saw a quality entry meet a good trade throughout. The champion from John Dykes, South Slipperfield, West Linton took £800 from Messrs Ridley, Ranbeck, Penrith. Topping this section, however, was a £950 sale from R A McLymont & Son, Kirksteads, Yarrow to Holystone Estate, Sharperton. Holystone Estate took another at £600 from C R Purvis, Halterburn. Kirksteads also sold at £900, to Ashcraig Farming Partners, Selkirk, & two at £750 to Messrs Murray, Roughet Hill, Heads Nook and to S G Entwhistle, Hoddlesden, Lancashire. The Kirksteads consignment averaged £708 for six.
70 Bluefaced Leicester shearlings averaged £401, similar to last year and with more sold.
Leading Shearling Averages
North Country Cheviot
Top
Ave
North Synton
£3,000
£855
Allanshaws
£950
£644
Soutra
£680
£515
Carruthers
£680
£464
Jethart
£800
£425
Swinside Townfoot
£620
£374
Symington
£400
£337
Nisbet Mains
£550
£326
Bluefaced Leicester
Kirksteads
£950
£708
South Slipperfield
£800
£540
Crossdykes
£480
£465
Cliftoncote
£500
£427
Spittal
£450
£425
Halterburn
£600
£414
Parkhill
£420
£400
Mosser Mains
£550
£390
West End
£450
£367
Raggetsyke
£450
£363
Threepwood
£420
£353
Burgh Head
£400
£350
Drumhumphry
£400
£350
Click on images to enlarge