Dumfries Mart


SALES HELD UNDER CURRENT REGULATIONS BUYERS AND SELLERS ONLY TO ATTEND SUBJECT TO CURRENT RESTRICTIONS
CHRISTMAS SHOWS
It is regretted that we will not be holding Christmas Shows this year at either Dumfries or Longtown in view of current regulations and concerns.
Weekly Primestock Sale - Every Wednesday
Prime Cattle followed by Feeding, Grazing & Cast Cows & Bulls at 10am - More Cast Cows particularly required
Prime Lambs & Hoggs at 12.30pm followed by Cast Ewes
latest report
BREEDING & DAIRY STOCK & BEEF BULLS
Robert Weir 07885 729495 Harry Begg 07713 56959
Alistair Watret 07715 499320 Office 01387 279495
We have an extensive register of stock for sale.
Pedigree bulls of most breeds available.
Also breeding pigs.
CURRENT REGULATIONS APPLY. SELLERS ARE STRONGLY RECOMMENDED TO "DROP & GO". PARTIES NOT TRANSACTING BUSINESS ARE REMINDED THAT THEY MUST NOT ATTEND THE MARTS.
Monday 30th November at 11am
220 Store Cattle, Calves & Stirks
Monday 14th December
Christmas Sale of Pigs of All Classes at 9.30am

Store & Breeding Cattle at 11am
Christmas Sale of Dairy Cattle at 1.30pm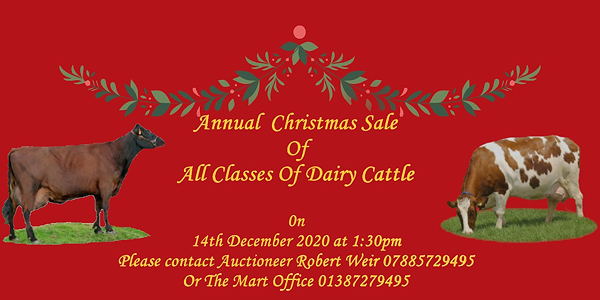 Christmas & New Year Weeks
Prime stock sales will be held on the Wednesdays as usual
Friday 8th January
New Year Sale of Store Hoggs, Cast Rams & Ewes, & Breeding Sheep incl. In-Lamb Ewes
Monday 11th January
Pigs of All Classes
Store Cattle, Calves & Stirks
Breeding & Dairy Cattle
Friday 22nd January
Store Hoggs, Cast Rams & Ewes, & Breeding Sheep incl. In-Lamb Ewes
Monday 25th January
Store Cattle, Calves & Stirks
---
---
4