Dumfries Mart


SALES HELD UNDER CURRENT REGULATIONS BUYERS AND SELLERS ONLY TO ATTEND SUBJECT TO CURRENT RESTRICTIONS
Weekly Primestock Sale - Every Wednesday
Prime Cattle followed by Feeding, Grazing & Cast Cows & Bulls at 10am - More Cast Cows particularly required
Prime Hoggs at 12.30pm followed by Cast Ewes
latest report
BREEDING & DAIRY STOCK & BEEF BULLS
Robert Weir 07885 729495 Harry Begg 07713 56959
Alistair Watret 07715 499320 Office 01387 279495
We have an extensive register of stock for sale.
Pedigree bulls of most breeds available.
Also breeding pigs.
CURRENT REGULATIONS APPLY. SELLERS ARE STRONGLY RECOMMENDED TO "DROP & GO". PARTIES NOT TRANSACTING BUSINESS ARE REMINDED THAT THEY MUST NOT ATTEND THE MART.
Monday 14th June
122 Pigs of All Classes at 9.30am
images
|
catalogue
90 Store Cattle, Calves & Stirks at 11am
Special June Sale of Beef Breeding Cattle at 11.45am

images
|
catalogue
To include 20 Lim x Cows (young ages) with Lim Calves at Foot, Kiltersan; 10 Saler x Heifers with Lim Calves at Foot, Kildarroch; 5 Hereford Heifers with AA Calves at Foot, Slacks; 4 Lim/BB Heifers with Lim Calves at Foot, Rigghead; 2 y.o. Simmental bull etc.,
followed by

Monthly Sale of Dairy Cattle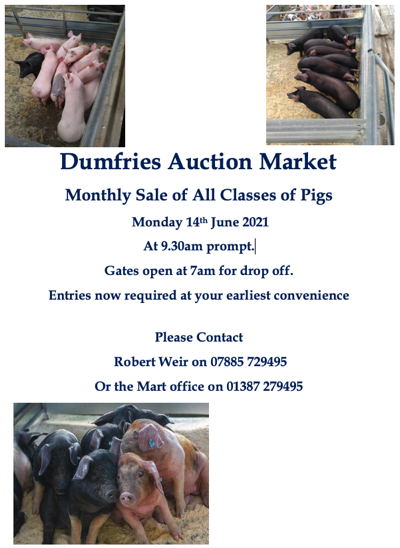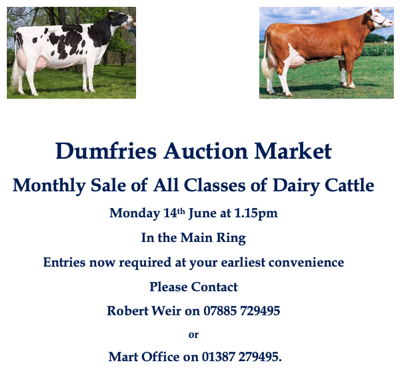 Monday 28th June at 11am
Store Cattle, Calves & Stirks
Monday 12th July
Pigs of All Classes at 9.30am
Store Cattle, Calves & Stirks at 11am
Special June Sale of Beef Breeding Cattle
Monthly Sale of Dairy Cattle
Monday 26th July at 11am
Store Cattle, Calves & Stirks
Monday 9th August
Pigs of All Classes at 9.30am
Store Cattle, Calves & Stirks at 11am
Monthly Sale of Dairy Cattle
Friday 20th August at 11am
Opening Sale of Store Lambs & Feeding Ewes
Friday 27th August at 10.30am
NITHSDALE SPECIAL SALE

Scotch Mule Ewe Lambs
Half-Bred & Texel Ewe lambs
Principal Sale of Scotch Mule Gimmers
Cheviot Mule, Texel & Half-Bred Gimmers
Breeding Ewes of All Classes
Friday 3rd September
Opening Sale of Store Lambs & Feeding Ewes
Saturday 4th September
Scottish National Sale of Pedigree Pigs

Supported by the British Pig Association
Monday 6th September
Pigs of All Classes at 9.30am
Store Cattle, Calves & Stirks at 11am
Monthly Sale of Dairy Cattle
Saturday 11th September
Special Sale of Scotch Mule Ewe Lambs
Texel, Cheviot Mule & Half-Bred Ewe Lambs
Sale of Shearling Gimmers of All Classes
Main Sale of Blackface Ewe Lambs
Store Lambs & Feeding Ewes
Suffolk, Texel & Other Rams
Thursday 16th September
On-Farm Sale

Texel Rams at Mains of Airies
Friday 17th September
Lowland Breeding Ewes & Shearlings
Store Lambs & Feeding Ewes
Monday 20th September
Annual Rood Fair Sale

Store Cattle, Calves & Stirks
Friday 24th September
Blackface & Cheviot Draft Ewes & Gimmers
2nd Sale of Blackface Ewe Lambs
Other Breeding Sheep
Store Lambs & Feeding Ewes
---
---