Dumfries Mart


SALES HELD UNDER CURRENT REGULATIONS BUYERS AND SELLERS ONLY TO ATTEND SUBJECT TO CURRENT RESTRICTIONS
Weekly Primestock Sale - Every Wednesday
Prime Cattle followed by Feeding, Grazing & Cast Cows & Bulls at 10am - More Cast Cows particularly required
Prime Hoggs at 12.30pm followed by Cast Ewes
latest report
BREEDING & DAIRY STOCK & BEEF BULLS
Robert Weir 07885 729495 Harry Begg 07713 56959
Alistair Watret 07715 499320 Office 01387 279495
We have an extensive register of stock for sale.
Pedigree bulls of most breeds available.
Also breeding pigs.
Basic Payment Scheme (BPS Entitlement)
2021 – Trading Now Open
C&D Rural are leading BPS Entitlement brokers arranging permanent transfers and sales of entitlements and providing specialist advice for individual cases.
ENGLAND – now trading - Lowland and Disadvantaged (Non SDA), Severely Disadvantaged (SDA) and Moorland
SCOTLAND - now trading - Payment Region 1, 2 and 3.
Competitive fees: No charge to purchaser.
Contact Emily or Hannah at C&D Rural on 01228 792299 OR office@cdrural.co.uk
CURRENT REGULATIONS APPLY. SELLERS ARE STRONGLY RECOMMENDED TO "DROP & GO". PARTIES NOT TRANSACTING BUSINESS ARE REMINDED THAT THEY MUST NOT ATTEND THE MART.
Monday 8th March
Pigs of All Classes at 9.30am
A good entry of breeding pigs including 3 Pure Kune Kune Gilt Weaners. catalogue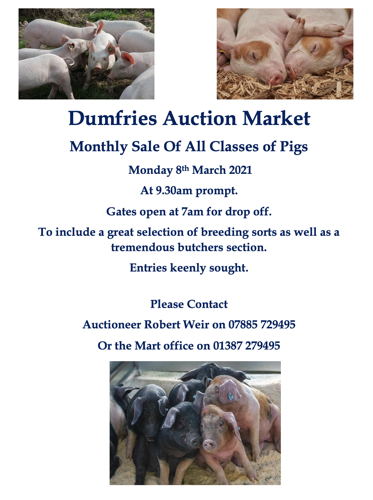 324 Store & Breeding Cattle, Calves & Stirks at 11am
catalogue
Monthly Sale of Dairy Cattle at 1.15pm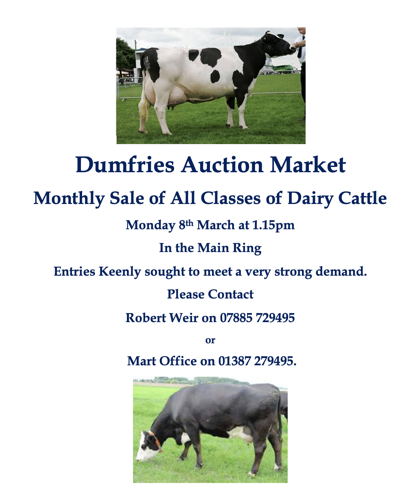 Monday 22nd March
Special March Sale of Store Cattle
Wednesday 24th March at 12 noon
Auction of Seasonal Grass Lettings
MOUNT ANNAN, ANNAN – 118 acres. Cattle only.
TEMPLAND, LOCHMABEN – 13 acres. Cattle only.
Please notify further entries
Monday 5th April
Pigs of All Classes
Store & Breeding Cattle to include Special Spring Sale of Organic Cattle
Monthly Sale of Dairy Cattle
Monday 19th April
Store Cattle, Calves & Stirks
Monday 3rd May
Pigs of All Classes
Store Cattle, Calves & Stirks
Monthly Sale of Dairy Cattle
Friday 7th May
Special Spring Sale

of Beef Breeding Bulling Heifers
Monday 17th May
Store Cattle, Calves & Stirks
Friday 28th May
Special Spring Sale

of Beef Breeding Heifers & Cows with Calves at Foot & In-Calf
---
---