Ervie Herefords Spring Bull Sale 2015
Moving the sale date from early May to Thursday 12th February 2015 certainly did not deter buyers at the Ervie Herefords Spring Bull Sale held annually at Mains of Airies farm near Stranraer. With purchased bulls able to remain at Airies until the end of April and deferred payment until then, many buyers readily took up this option.
This is the 6th consecutive year that the Douglas family have held their on-farm sale, offering unpampered, fertile, sound bulls, straight from the kale field and sold in their working clothes. The bulls promote the consistent easy-fleshing and high maternal Line One Hereford genetics used in the large Ervie herd. Reputation of the bulls continues to grow and 13 of the 20 buyers at the end of the day were regular repeat customers.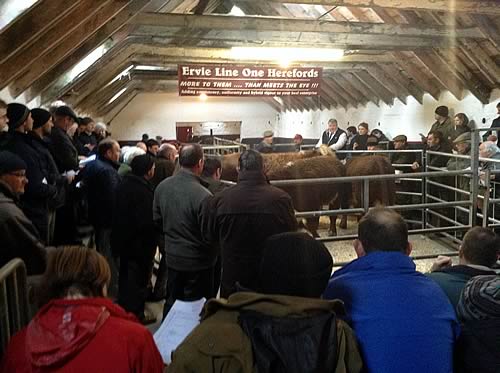 After a "mince & tatties" lunch, the sale kicked off at 1p.m. with groups of 3, 4 or 5 bulls sold together and targeted towards large modern dairy units running sweeper bulls after their AI programme. Many of these groups were light birth weight bulls with most buyers prioritising calving ease as part of their purchasing criteria.
The single bulls following the groups continued on a sound commercial trade with auctioneer Harry Begg from Dumfries Mart finding ready bidders easily as the dairy units sought to fill their requirements. Midway through the sale offering came the bulls with high-end performance data. First of these was Ervie Advance 131696. Sired by Achiever 91151H and from the Barbara family, he boasted the highest actual adjusted 400 day weight and a balanced set of EBV's and looked well worth the money selling at £2600 to I Skea, Inverurie for his pedigree Hereford herd.
Creating a flurry of bidding was Ervie Advance 131688. Also sired by Achiever 91151H and from the important cow Ervie Oystergirl V299. This bull entered the ring with equal top Teminal and Self Replacing indexes of +33 and +41 respectively, and sold at £4000 to repeat buyer, Marcus Maxwell, New Galloway, to work as a sire of Black Baldies on his Angus based cows.
Very next bull in the ring was favourite of many, Ervie Advance 131588. Sired by Achiever 91149H and from the Beauty family, he shared top rating on +33 and +41 for Terminal and Self Replacing Indexes. He quickly reached £4500 in the bidding and sold to John Hamilton, Dunbar to be used as "Black Baldie maker" for his Angus based suckler herd.
As well as strong support from local Dumfries & Galloway farmers, bulls were sold to Yorkshire, Ayrshire, Aberdeenshire, Scottish Borders, Perthshire, Lothian and Northern Ireland.
Volume buyers at the sale were Dourie Farming Ltd. taking 13 bulls, Glenapp Estate taking 6 and new customer, Lundie Farming Ltd bought 3 for their new dairy enterprise near Dundee. Twenty-seven of the 42 bulls sold went for use in dairy herds with the remaining 15 going to beef suckler herds
Afterwards, John Douglas commented that he was thankful for the kind weather and grateful to everyone who had travelled from near and far to attend the sale. Comments on the standard of the bulls had been very favourable with both the auctioneer and many buyers saying it was the best set of bulls produced to date.
"Next year we aim to have 60 plus bulls."
40 Hereford bulls grossed £94,100.00 to average £2352.50 (up £31.25 on the year)
2 Aberdeen Angus bulls sold at £1900.00 and £1650.00 to average £1775.00